MLB Rumors: A Padres Trade For Mookie Betts Could Involve Red Sox Acquiring Wil Myers, Prospects
Rumors that the Boston Red Sox might trade Mookie Betts won't go away. The San Diego Padres have reportedly expressed interest in acquiring the 2018 AL MVP.
According to Dennis Lin of The Athletic, Boston and San Diego have discussed a deal involving the outfielder. The chances of a trade being completed by the start of the 2020 MLB season are considered unlikely, those the teams are talking.
The Red Sox have explored moving Betts in their quest to get below the $208 million luxury tax threshold. Boston would need to shed around $20 million to do so. Betts will make $27 million next season before hitting free agency.
The Padres are seeking a return to relevancy with no playoff appearances since 2006. The team made a splash last offseason by signing Manny Machado to a 10-year, $300 million contract. San Diego still finished at the bottom of the NL West.
Drew Pomeranz has been the Padres' only notable free-agent signing. The team traded for Tommy Pham in early December.
Adding Betts to a lineup that includes Machado and Fernando Tatis Jr. could go a long way in improving a subpar offense. The Padres finished 13th among 15 NL teams in runs scored last season.
Boston isn't simply looking to dump Betts' salary. A trade would've happened already if that were the case. The Red Sox want a lucrative package in return to their best player.
Sources have told The Athletic that outfielder Wil Myers and "a significant amount of prospect talent" have been discussed as Boston's return in a deal for Betts.
Dealing Myers makes sense for San Diego. After hitting .239/.321/.418 with a -0.3 WAR in 2019, Myers would have trouble finding playing time in a talented Padres' outfield. Myers is also owed $61 million over the next three years.
The Red Sox would come $13 million closer to the luxury tax threshold by swapping Myers for Betts. Boston reportedly explored the idea of sending David Price and the $96 million left on his contract to San Diego, but the Padres aren't interested in acquiring the pitcher.
San Diego is considered to have one of the best farm systems in baseball. MacKenzie Gore, Luis Patiño and CJ Abrams all made the top 25 in Baseball America's Top 100 list of best prospects for 2020.
Those players might be off the table in a trade for Betts, who only has one more year of team control. Boston could still acquire outfielder Taylor Trammell (73rd), catcher Luis Campusano (79th) or pitcher Adrian Morejon (89th) in a potential deal.
Betts hit .295/.391/.524 with 29 home runs in 150 games last year. He led the AL in runs scored for the second straight season.
The Padres went 70-92 in the 2019 season, winning fewer than 77 games for the ninth straight year.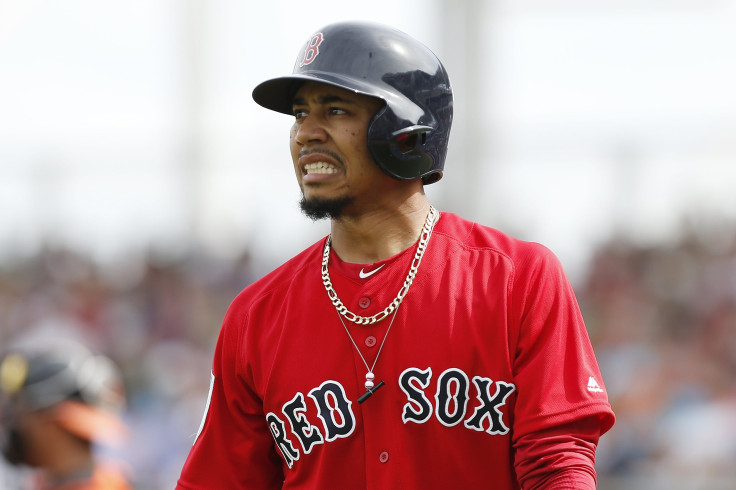 © Copyright IBTimes 2023. All rights reserved.