MLB Trade Predictions: Kris Bryant To Washington, Jackie Bradley Jr To Leave Boston, Starling Marte To the Cubs
KEY POINTS
Kris Bryant will be traded to the Washington Nationals
Jackie Bradley Jr will be traded to the Cincinnati Reds
Starling Marte will be traded to the Chicago Cubs
The winter meetings are in full swing and there are plenty of MLB trade rumors to discuss such as Kris Bryant's possible trade to the Washington Nationals, Jackie Bradley Jr.'s possible Boston departure and Starling Marte's possible next team.
The Nationals just signed Stephen Strasburg to a record $245 million contract to keep him in Washington. With Anthony Rendon also due massive money, the feeling around the world of baseball is that the Nats will lose their third baseman.
According to MLB.com's Jon Paul Morosi, Washington has made contact with the Chicago Cubs over a potential trade for Kris Bryant to plug the hot corner. Bryant is among the top positional players who are available on the trade market this season.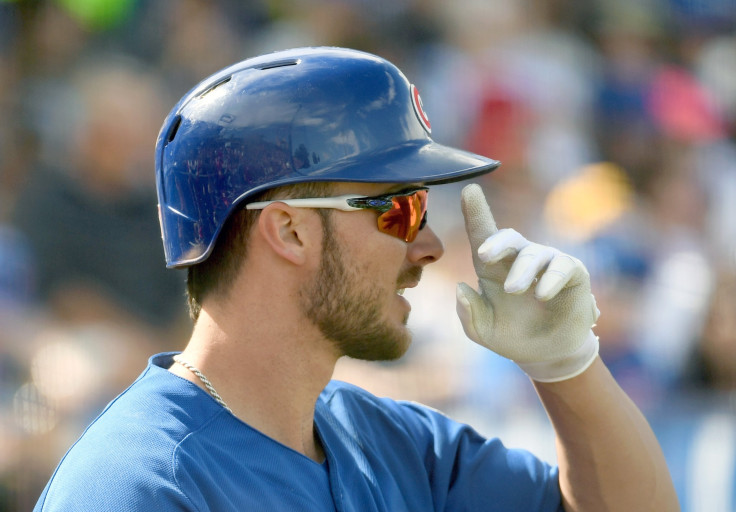 However, any deal for Kris will likely wait until a bit later in the offseason. The third baseman is currently involved with a service-time grievance and is awaiting an arbitrator's ruling on whether or not he will get credit for a full season in 2015.
Should Bryant win, he will become a free agent after the 2020 season instead of 2021, as is the case as it stands. Teams will not want to make an offer until this is resolved because it will greatly affect Bryant's market value.
That's in addition to the fact that most clubs are waiting to see where both Rendon and Josh Donaldson land, including the Nationals. Bruce Levine of WSCR-AM in Chicago reports that the Philadelphia Phillies have also checked in on Bryant.
However, Washington has a greater need and the ability to return to the fall classic in 2020, so Bryant's predicted destination is Washington.
The Boston Red Sox are expected to dump payroll this winter. The trick is that they want to do that while remaining competitive. The easiest way to dump salary would be to deal with Mookie Betts, who is set to earn in the region of $27 million in 2020.
His arbitration case is ongoing so Boston doesn't quite know how much they are on the hook for just yet. They will need to shed somewhere in the neighborhood of $10 million to $21 million to get under the $208 million luxury tax threshold to avoid a penalty.
Enter the outfielder, Bradley Jr. is set to make $11.5 million in 2020 and moving that contract would go a long way to getting under the threshold. Teams with a need in outfield include the Texas Rangers, Chicago White Sox, Arizona Diamondbacks and Cincinnati Reds.
The Reds are preparing for a bitter fight in the NL Central and would want to trade with a team from out of their division and, ideally, from the AL. That means they are the predicted destination for Jackie Bradley Jr.
Speaking of outfielders, the Pittsburgh Pirates are shopping star man Starling Marte for different reasons. The Bucs are not expected to compete in the NL Central next season, making this a good time for a rebuild.
Marte is also affordable for potential suitors. He is due $24 million over the next two seasons, both of which are club options, and is 31 years young so he has plenty of baseballs left in him. With a weak center field market in free agency lead by an aging Brett Gardner, Marte is an attractive option.
According to Jon Heyman of the MLB Network, the Pirates' main ask in return for Marte is a catching prospect. The Cubs are in the market for an outfielder after Nicholas Castellanos left via free agency. They also have 20-year-old Miguel Amaya waiting in the wings for his chance behind the plate.
Amaya is ranked as the eighth-best catching prospect in baseball and the 90th overall. His defensive abilities are more developed than his offensive but being so young he has time to develop that part of his game. Starling Marte would likely cost the Cubs more than just Amaya but the Cubs' need is real so they are his predicted destination.
© Copyright IBTimes 2023. All rights reserved.