MLB Trade Rumors: Padres Are Juan Soto's Most Likely Destination By Deadline
Several MLB teams have pursued Juan Soto within the last few weeks, but one club stands out as the outfielder's most likely destination. The San Diego Padres seemingly have the best chance to reach an agreement with the Washington Nationals by Tuesday's 6 p.m. ET trade deadline.
Ever since Soto turned down Washington's 15-year, $440 million contract offer, the Padres have been featured most prominently in trade rumors for the superstar. According to CBS Sports' Jim Bowden, San Diego has emerged as the frontrunner to land the star outfielder.
The Padres are motivated to acquire Soto in hopes of making a World Series run. San Diego has continued to add marquee players in recent seasons without much playoff success to show for it. The Padres missed the 2021 playoffs after a second-half collapse.
San Diego last won an NLDS game 16 years ago. The franchise hasn't reached the NLCS since being swept in the 1998 World Series.
Infielder C.J. Abrams could be at the center of San Diego's trade package to Washington. Outfield prospects Robert Hassell III and James Wood would also likely have to be included in a deal.
First baseman Josh Bell could be sent to San Diego along with Soto, according to The Washington Post's Barry Svrluga. Bell is hitting .301 with an .877 OPS in the final year of his contract.
At just 23 years old, Soto might be the No. 1 trade asset in all of MLB. After finishing second in the 2021 NL MVP race, Soto has 21 home runs and an .894 OPS.
The St. Louis Cardinals and Los Angeles Dodgers have also been trying to trade for Soto in the run up to the deadline. The Dodgers ended up acquiring Max Scherzer and Trea Turner from the Nationals at least year's deadline right after it looked like Scherzer was headed to San Diego.
The Padres traded for Milwaukee Brewers closer Josh Hader Monday.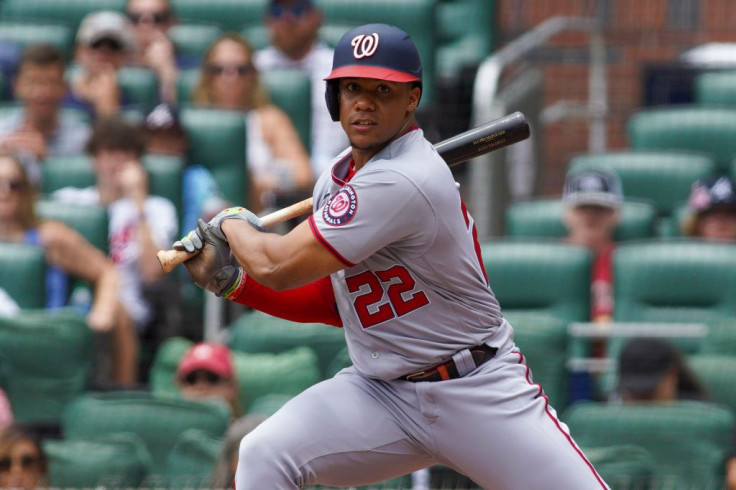 © Copyright IBTimes 2023. All rights reserved.