MLB Trade Rumors: Yankees Eyeing Trevor Bauer, Red Sox Want Starting Pitcher Before 2019 Deadline
The New York Yankees have the American League's best record at the 2019 MLB All-Star break. That doesn't mean the team is satisfied with its roster, specifically the pitching staff.
For weeks, the Yankees have explored making an upgrade in the rotation. Cleveland Indians' starter Trevor Bauer has been linked to New York, and rumblings of a possible trade could get louder in the coming weeks.
According to The Athletic's Ken Rosenthal, the Yankees sent one of their top evaluators to Cincinnati to scout Bauer in person Sunday. Bauer gave up just four hits and one run to go along with nine strikeouts in seven innings against the Reds, lowering his ERA to 3.61.
Bauer is considered a top trade target for New York because he is under team control beyond this season. The 28-year-old was available in the offseason when Cleveland was looking to shed payroll, and there's a chance he could be dealt before the July 31 deadline as the Indians try to avoid paying Bauer in his final arbitration season next year.
Cleveland's latest hot streak could be the biggest impediment to getting a trade done. The Indians are only 5.5 games behind the Minnesota Twins for first place in the AL Central. They are 1.5 games ahead of the Oakland Athletics for the second AL wild-card spot.
Rosenthal noted that the Indians might consider dealing Bauer if it means getting outfielder Clint Frazier in return, though the Yankees would be reluctant to do such a trade. Frazier has 11 home runs and a .513 slugging percentage in 53 major-league games this season.
The Boston Red Sox are competing with both the Yankees and Indians for a playoff spot. After a slow start to the year, the defending champions are nine games behind New York in the AL East and two games behind Cleveland in the wild-card race.
Boston's bullpen has let them down time and time again this season, but it could be the rotation that ultimately gets a boost. Rosenthal reported Monday that Red Sox are pushing to add a starter "sooner rather than later."
Starter Nathan Eovaldi is on track to become Boston's closer when he returns from the injured list. The Red Sox's rotation ranks seventh in the AL with a 4.70 ERA. David Price is the team's only starter with a sub-4.00 ERA.
The Red Sox don't only have to worry about filling Eovaldi's spot in the rotation. Rick Porcello has struggled mightily with a 5.33 ERA.
Bauer, Marcus Stroman, Madison Bumgarner and Zack Wheeler have all been considered potential trade options for the Yankees. Perhaps Boston is now looking at those names, as well.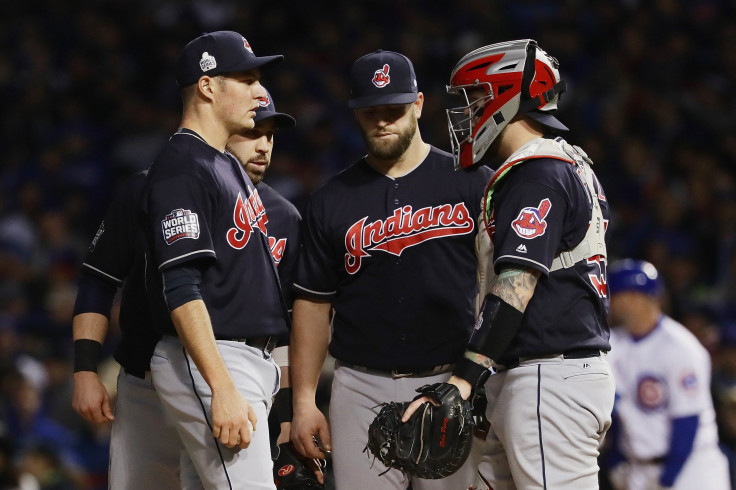 © Copyright IBTimes 2023. All rights reserved.