MMA Rumors: Conor McGregor vs. Nate Diaz Will Happen, Says Notorious
As far as former UFC champion Conor McGregor is concerned, he has made headlines for all the wrong reasons. But if his latest rant is any indication, new reports could be finally something sensible and related to what he loves doing best -- fighting inside the cage.
As reported in a previous article, the Notorious was embroiled in a phone-smashing incident that once again placed him in a bad light. The timing could not have come at a worse time considering he had just been fined $50,000 and suspended for six months for that forgettable UFC 229 skirmish involving Khabib Nurmagomedov.
Despite these legal issues, McGregor continues to weigh his options. Only 30 years old, the Irishman has plenty of options to consider both inside and outside the UFC. Several names also come to mind, each wanting a piece of the former UFC featherweight and lightweight champion. Aside from Numargomedov, there is also Nate Diaz in the fray.
To recall, both McGregor and Diaz faced each other twice already. They are deadlocked at 1-1 with Diaz shocking everyone when he choked out McGregor at UFC 196 back in March 2016. Both met again at UFC 202 held in August of the same year with Mystic Mac winning via majority decision.
Now, McGregor is open to facing Diaz for a third fight, which he says is something that needs to be done purely out of respect, TMZ Sports reported. He said that this fight will happen with no definite date given for now.
"I have nothing but respect ... I owe him the trilogy now and the trilogy will happen," McGregor said.
Looking back at how both went back and forth to make a third fight happen, the suddenly softened stance of the Irishman may seem a bit off. Diaz could be the first opponent on McGregor's long line of fight rematch plans -- the others being Floyd Mayweather Jr. and Nurmagomedov.
Should a McGregor vs. Diaz III happen, the result of that match could very well dictate what lies ahead for the Irishman. Seeing, however, that Mayweather has shown little interest to face McGregor for a second time, a potential clash with Nurmagomedov looms as the best fight to make.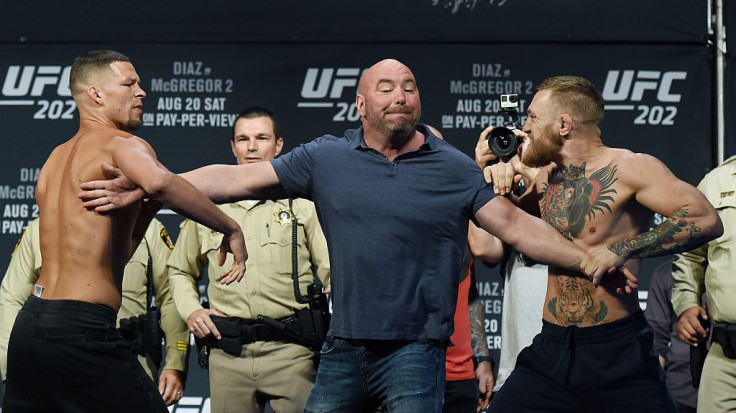 Before getting ahead of ourselves, McGregor has not totally softened up. Just recently, he made it known that he wants UFC membership shares before he takes another fight. So just like that, McGregor has stopped dead on his tracks once again before making his return in the UFC ring.
© Copyright IBTimes 2023. All rights reserved.