Modi's Visit To France: New Delhi-French Ties Evolving As West Tries To Reduce Dependence On China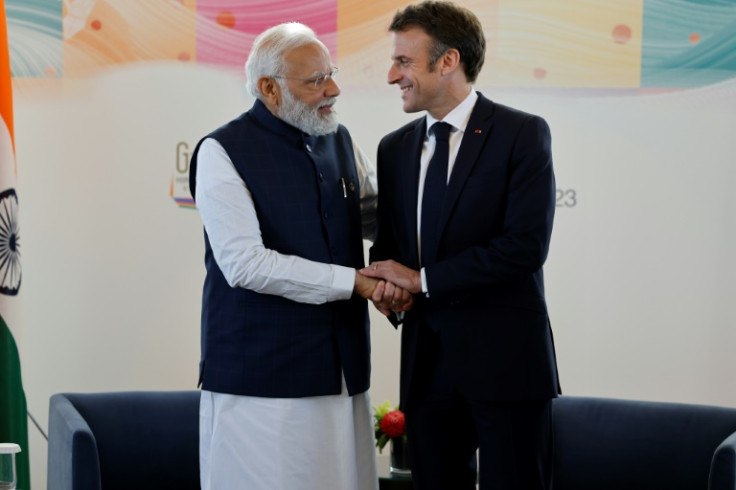 KEY POINTS
The Indian prime minister was invited to be the guest of honor at French National Day or Bastille Day
Modi's two-day visit comes as Paris and New Delhi mark the 25th anniversary of their strategic partnership
Western countries have been 'actively courting' India as they keep eye on China, some experts say
French President Emmanuel Macron called India a "key partner" for France ahead of Indian Prime Minister Narendra Modi's appearance as a guest of honor at Friday's annual Bastille Day parade.
As Paris and New Delhi mark the 25th anniversary of their strategic partnership, Macron and Modi sang praises about the India-France relationship during the Indian prime minister's two-day visit to France.
"It is a giant in the history of the world that will have a determining role in our future," Macron said in his Thursday speech about "key partner" India.
Similar sentiments were seen in Modi's remarks about the "unbreakable friendship" between India and France.
"I will participate in the national day parade with my friend, President Macron. This is not just a sign of a connection between the two leaders but a reflection of the unbreakable friendship between India and France," Modi said as he addressed an Indian diaspora gathering in France on Thursday.
Modi's two-day visit to France comes just weeks after U.S. President Joe Biden met with the Indian prime minister in the States. Western countries have been "actively courting" India as they try to reduce their economic dependence on China and keep an eye on Beijing.
India's current economic growth and trajectory have bolstered its voice on the global front, especially after some Western countries buckled under the stress of the Covid-19 pandemic.
"Post-pandemic repercussions and the fallout of Russia-Ukraine crisis have positioned the West in choppy waters. Whereas, India's economic growth and the projected trajectory has fared better than expected," Anandita Bhada, Research Analyst at the Europe and Eurasia Centre of Manohar Parrikar Institute for Defence Studies and Analyses (MP-IDSA), told International Business Times. "This puts India in a unique position amongst the West as well as the Global South. It is also rapidly emerging as an alternative destination for secure and sustainable global supply chains."
India and European countries also find common ground in their concerns about an increasingly assertive China and the balance of power in the Indo-Pacific region.
"China is a huge factor in the context of Western countries actively courting India," Shairee Malhotra, Associate Fellow at the Observer Research Foundation (ORF), told IBT. "India is viewed as a country that can balance China - as a huge market as well as a stabilizer and security provider in the Indo-Pacific region."
As far as India is concerned, France has always been "a very special country," Harsh Pant, Vice President – Studies and Foreign Policy at ORF, told IBT.
"India has had a traditional and historical relationship with France" and is "one of the few countries that stood by India through the cold war at a time when few Western countries were not looking at India positively," Pant said. "France was heavily invested in this partnership with India, and that is something that has paid good dividends."
In light of "trust-based partnerships" emerging across the globe, "India and France are trying to capture their old glory," Pant added.
Although there are differences in terms of the response to the Ukraine war and also human rights concerns in a Modi-ruled India, these issues have not "clouded the strategic trajectory" of the India-France relationship.
"With the rising strategic rivalry between the United States and China, India and France as middle powers in the international system are also trying to fill the strategic vacuum by engaging more with each other," Malhotra explained. "The concept of 'strategic autonomy' also brings the two countries closer."
While India has been a decades-long practitioner of "strategic autonomy," France has recently "embraced this concept" under the leadership of Macron, "for whom pushing 'strategic autonomy' at the European level is a pet project," she added.
France and India enjoy some amount of "ideological convergence" as they both try to preserve their strategic autonomy and independence of action, Pant said.
New developments in India-France ties include defense and technology cooperation among other areas of strategic partnership.
"Several defense deals are currently in the works - Rafale jets for the Indian Navy, Scorpene submarines, co-developing engines for fighter jets," Malhotra said, adding, "France has emerged as a key partner in India's 'Make in India' initiative, which aims to indigenize defense production."
Apart from defense, areas like climate change, energy transition and counter-terrorism will also see strategic cooperation between the two countries.
Another "unique aspect of Indo-French relations is the joint vision for space cooperation, where the two countries have agreed to expand cooperation on space security, sustainability and safety," Bhada noted.
"Fight against terrorism is another aspect where the two countries share common concerns," she added.
© Copyright IBTimes 2023. All rights reserved.