More Flee Paraguay's Worst Floods In Decades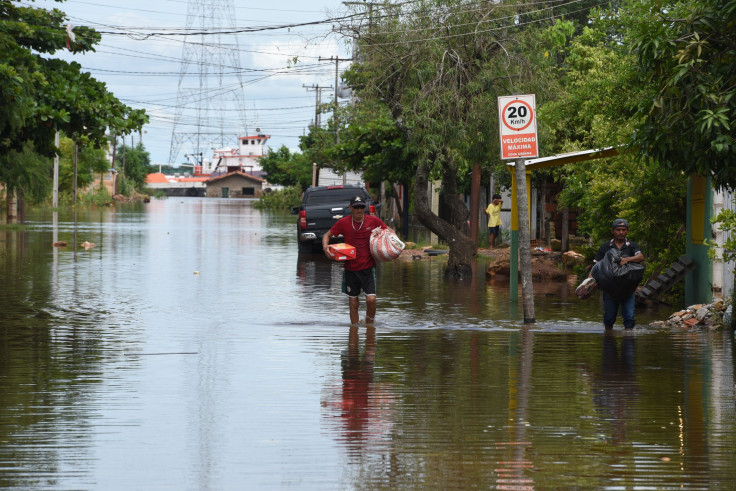 With further rain looming, more families abandoned their homes Sunday in Paraguay, the country hardest hit by the worst flooding in decades in the area bordering Uruguay and Argentina, which has already forced more than 100,000 people to evacuate. The El Niño phenomenon has exacerbated summer rains, swelling rivers in the region. The River Paraguay, which flows by the country's capital, Asuncion, has already reached 25.66 feet, its highest level since 1992.
About 90,000 people have already left their homes in Asuncion, and are camping in makeshift wood and tin shelters around the city in parks and public spaces or finding refuge in schools and military buildings.
"The water in my house reaches the ceiling; we brought all we could with the help of neighbors and a municipal van," said Ramona Beltran, a 42-year-old cook who has been living in an evacuee settlement with 30 other families for two weeks now.
Beltran said she spent her savings on the material she needed to make herself a new home as government aid had lagged. "We can't wait, when it is raining so much," she said.
In Alberdi, about 75 miles farther south, authorities have called for 7,000 more people to evacuate because of cracks detected in the town's levee.
"We are very uncertain about what could happen with the [flood] wall, and we do not want to run any type of risk, so the population has been alerted," said Paraguay's minister of national emergencies, Joaquin Roa. He said, however, many people did not want to leave their homes for fear of looting.
This year's El Niño, which causes global climate extremes, is the worst in more than 15 years, the United Nations weather agency said last month. While it has worsened floods in some parts of South America, it has brought droughts in others, such as Colombia.
The Paraguayan government has declared a state of emergency in Asuncion and seven regions of the country to free up funds to help those affected.
However, some evacuees complain the funds were not reaching those who needed them, and that the government must find permanent solutions to the flooding, which happens all too frequently.
"This isn't a problem just now; it has been going on for years," said Leopoldina Duarte, 49, who has already had to evacuate her home seven times.
There was no official death toll. Local media reported two people were electrocuted in their flooded homes and several were killed by trees falling in the storms that caused the flooding.
Climate Change Blamed
In northern Argentina, across Paraguay's southern border, some 20,000 people have had to evacuate in what local authorities have called the worst flooding in 50 years.
"Fortunately, the rains have lessened, and the rivers have stopped rising," said newly elected President Mauricio Macri, who suspended his Christmas vacation to visit the worst affected areas in Entre Rios province. He blamed the floods partly on climate change, and promised federal aid to help build housing farther away from river shores and to raise flood-defense walls in the area.
Next year, the government plans to focus on finding long-term solutions to the flooding problem, building new infrastructure that was long overdue, said Macri, who studied to be a civil engineer.
In Uruguay, the number of evacuees was 11,300, Fernando Traversa, the head of the national Emergencies Office said Sunday. He said river levels were stabilizing now. This has allowed about 1,000 people to return to their homes, while an additional 5,600 were also returning, he said.
In southern Brazil, flooding has forced 1,801 families to leave their homes, Rio Grande do Sul state Civil Defense said in its latest update late Saturday.
© Copyright Thomson Reuters 2023. All rights reserved.