More Mass Graves Found in Libya [PHOTOS]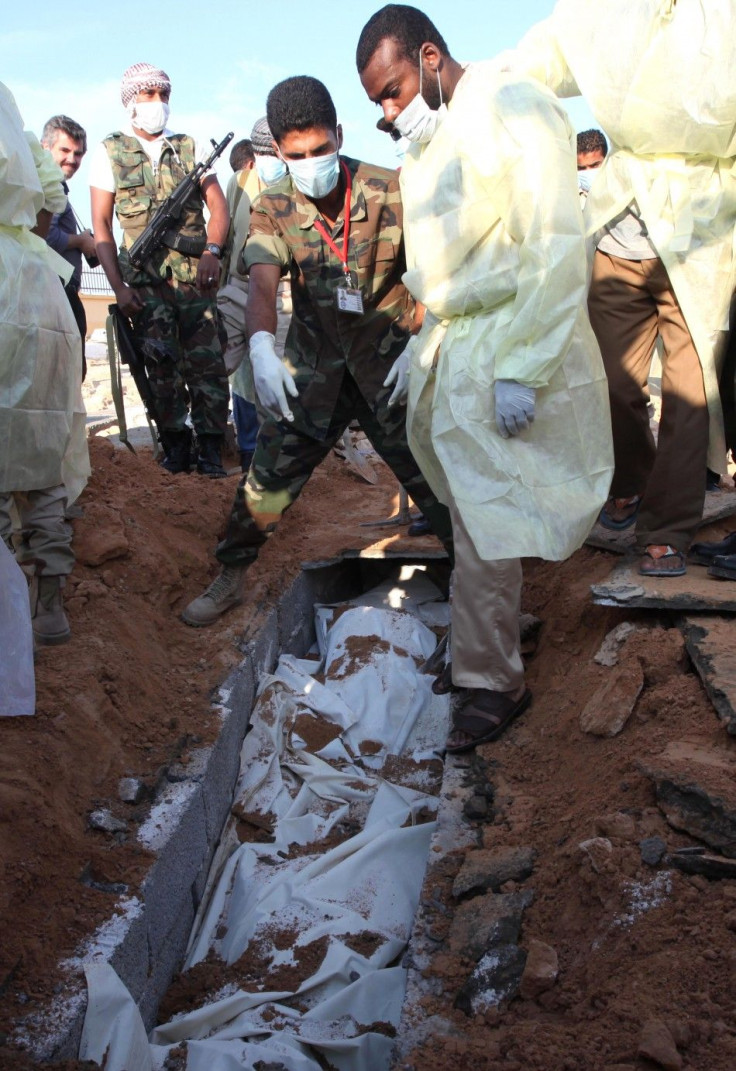 Following news of the death of Moammar Gadhafi, the Red Cross reports that it is still finding mass graves of political opponents killed during the Libyan dictator's reign, with thousands of bodies found buried or burned near warehouses, hospitals, and roadsides.
In various parts of Libya, human remains are being discovered in mass graves, hospitals and other sites, The International Committee of the Red Cross, a neutral agency, said in a statement on its aid operations.
The ICRC, which helps identify human remains aside from aiding the living, helped this week to complete the exhumation of five bodies at a mass grave at Al Qa'laa in western Libya, after finding eight more bodies covered by sand on a roadside near Sirte earlier in October.
Many bodies remain unclaimed, even as thousands of families search for missing loved ones.
Mass Graves: We Have Discovered the Truth
In September, shortly after the fall of Tripoli, Libyan revolutionaries discovered grim evidence of a 1996 massacre allegedly orchestrated by Gadhafi outside Abu Salim prison. Dissidents, including clerics and students, were imprisoned, tortured, or simply made disappear there.
Rebel fighters had already disclosed the location of several apparent mass graves. In a warehouse at the Khamis 32 military encampment near Tripoli, the charred remains of 53 people, presumably Gadhafi opponents, were discovered in August. No definitive proof, however, could yet tie photos of the dead to Gadhafi, whose rule was collapsing.
Abu Salim prison was different. The June 1996 massacre occurred when Abu Salim's inmates rioted, protesting their treatment in the prison. Guards opened fire on the prisoners, killing almost all of them. For more than a decade, families of those killed were barred from visiting or learning more about the shootings, but reports began to emerge when a guard spoke out, causing human rights groups to investigate the charges.
Military spokesman Khalid al-Sherif said authorities believe the bodies were kept in the prison before they were buried in 2000. Some 1,200 are likely buried in the mass grave still being uncovered, based on prison logs. Photos of the victims were shown worldwide, as more and more bodies were uncovered.
We have discovered the truth about what the Libyan people have been waiting for for many years, and it is the bodies and remains of the Abu Salim massacre, al-Sherif had told Reuters in a news conference following the discovery.
It would not be the last of its kind. In October, the National Transitional Council would report a separate burial site in Tripoli, which may contain as many as 700 bodies. Since Gadhafi was toppled, more than a dozen sites have been identified as mass graves, with more uncovered every week.
Though there are conflicting reports as to how many of these Libyans' death were ordered or sanctioned by Gadhafi, the NTC views the bodies as a symbolic triumph against the silence of the Gadhafi regime, and a chance to provide answers to families and friends of the deceased.
Evidence of Torture at Detention Centers
Over the past two weeks, the Red Cross has also evacuated some 49 patients from Sirte wounded in the conflict. ICRC officials have also visited 50 detention centers throughout Libya, holding more than 7,000 people including 1,500 foreigners. Photos have not yet been released from these sites.
The ICRC monitors prisoners' treatment and conditions, but its confidential findings are shared only with detaining authorities. Mona Rishmawi, a U.N. human rights official, said last week that the office had seen serious allegations and some evidence of torture in the detainees, more bodily emblems of the wounded and dead in Gadhafi's Libya.
Ibrahim Abu Shima, a member of a committee looking for mass graves, stressed Libya's need for help from the international community as far back as September, in an interview with Fox News. We have no experience in this, Shima said, emphasizing the need for identification and DNA testing materials. We need help to dig, to remove corpses and remains without mixing them.
Hasty attempts to remove bodies, both by families of the victims or by the NTC, have further comprised the remains found in mass graves. Physicians for Human Rights, another organization involved in Libyan aid, has called for all exhumations to cease and the sites guarded until proper identification by ICRC and forensic specialists is complete.
© Copyright IBTimes 2023. All rights reserved.