Morsi Death Sentence: Turkish President, Human Rights Group First To Condemn Egyptian President's Trial Verdict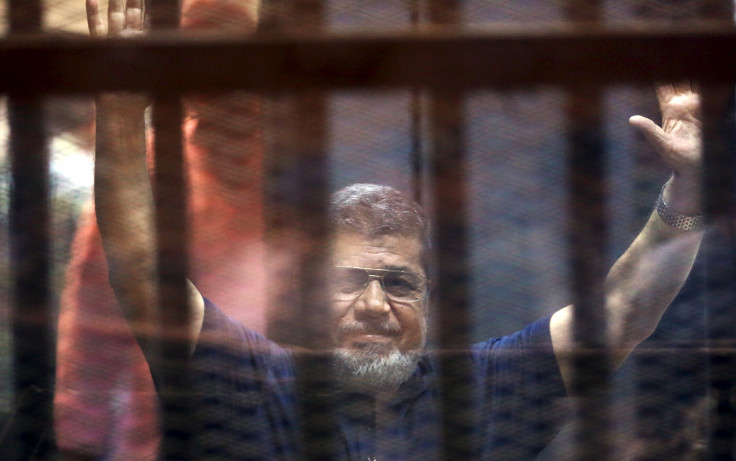 Update as of 2:25 a.m. EDT: The United States joined Turkey and Amnesty International in condemning an Egyptian court's decision to hand down a death sentence to former president Mohammed Morsi, the Guardian reported.
The U.S. is "deeply concerned" about the court's decision, a State Department official said on Sunday, according to the report. "We are deeply concerned by yet another mass death sentence handed down by an Egyptian court to more than 100 defendants, including former president Morsi," the unnamed state department official reportedly said.
However, the ruling on the death sentence will not be finalized until June 2 as all capital sentences are referred to the Grand Mufti -- the country's top religious authority -- and the rulings are subject to appeal, the Guardian report added.
Original story:
Turkish President Tayyip Erdogan and human rights activists were the first to condemn Egypt for sentencing former president Mohammed Morsi to death, a verdict announced Saturday in Cairo. The court is expected to refer the decision to the Grand Mufti, Egypt's highest religious authority, with a final decision slated for June 2, according to CNN.
"Egypt is turning back into ancient Egypt," said Erdogan, Agence France-Presse reported. Erdogan was a strong supporter of Morsi, who was seen as pivotal in helping re-establish Turkey's influence in the region.
Erdogan accused the West of hypocrisy for remaining silent about Morsi's verdict. "The West, unfortunately, is still turning a blind eye to [Egyptian President Abdel Fattah el-Sisi's] coup," he said. Morsi was elected by popular vote in June 2012 but was ousted a year later by a military coup led by Sisi, who was an Egyptian army chief at the time.
Human rights group Amnesty International condemned the trial as a "charade." The organization criticized Egypt's criminal justice system and accused the court of not providing Morsi with adequate legal representation.
"Condemning Mohamed Morsi to death after more grossly unfair trials shows a complete disregard for human rights," the organization said in a statement, according to Al Jazeera. "He was held for months incommunicado without judicial oversight and that he didn't have a lawyer to represent him."
Morsi's son, Osama Morsi, told Turkey's state-run Anadolu Agency that the verdict was "invalid" and that "we don't pay attention to it."
Morsi's death sentence stemmed from charges related to the 2011 Arab Spring that toppled the country's dictator, Hosni Mubarak. Morsi was accused of helping foreign militants free Islamists during mass prison breaks that year.
Morsi was sentenced to 20 years in prison in April for his role in the killing of anti-government protesters while he was president from 2012 to 2013. A Cairo court also sentenced several members of the now-outlawed Muslim Brotherhood to 20 years in prison on charges of "using violence and arresting and torturing protesters," however murder charges against the defendants were dropped.
© Copyright IBTimes 2023. All rights reserved.
FOLLOW MORE IBT NEWS ON THE BELOW CHANNELS