Moscow Gay Pride March Banned For 10th Straight Year, But Organizers Plan To 'Hold Some Kind Of Action'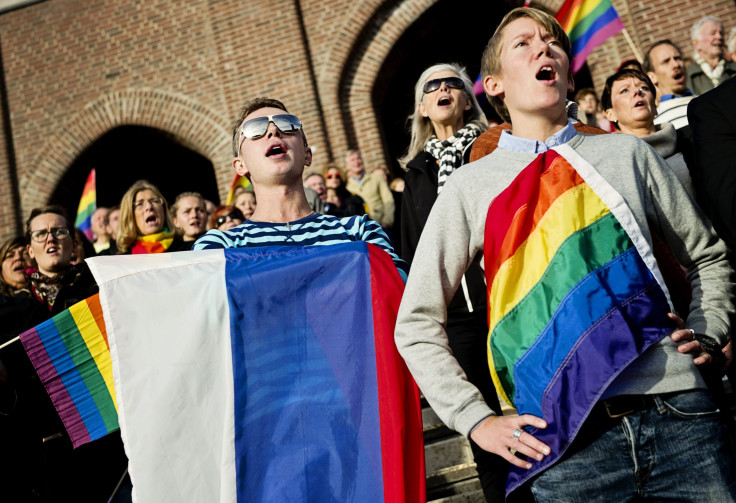 Authorities in Moscow have banned a planned Gay Pride march through the city Thursday for a 10th straight year, a report said. Activists had originally scheduled the event for May 30.
"We have warned the organizers that the demonstration will not be authorized," Moscow mayoral representative Alexey Mayorov told Russian news outlet RIA Novosti, as quoted by Agence France-Presse. Authorities did not provide a specific reason as to why the event was banned but reportedly warned its organizers of the "risks" of proceeding without authorization.
Activists have applied to hold a Gay Pride march through Moscow since 2006 but have been repeatedly denied by authorities. The event's organizers, who also plan to oversee a pair of meetings on LGBT rights this month, will appeal the decision, and they have vowed to hold some sort of demonstration later this month in defiance of the ban.
"We will nonetheless hold some kind of action on May 30, even if the venue is not yet decided," Nikolai Alexeyev, one of the march's organizers, told AFP.
The Gay Pride march was expected to draw as many as 200 demonstrators, the Moscow Times reported this week. The event would have culminated in a protest outside the Moscow mayor's office.
Russia has long taken a dim view of homosexuality, which was considered a crime in the country as recently as 1993. A poll conducted by Moscow-based research institute Levada Center found earlier this year that 37 percent of Russians consider homosexuality a disease, the Moscow Times noted.
Russian President Vladimir Putin is staunchly against gay marriage and has passed a series of laws against homosexuality, including a 2013 measure that authorized police officers to arrest tourists suspected of homosexuality or "pro-gay" viewpoints, the New York Times reported. Putin addressed Russia's stance on LGBT rights ahead of the 2014 Winter Olympics in Sochi, Russia.
"There is no ban on nontraditional forms of sexual interaction between people. We have a ban on propaganda of homosexuality," Putin said last year, according to CBS News.
© Copyright IBTimes 2023. All rights reserved.