Most Americans Favor Keystone XL Pipeline And Stricter Environmental Regulations; How Will Obama Balance Those Preferences?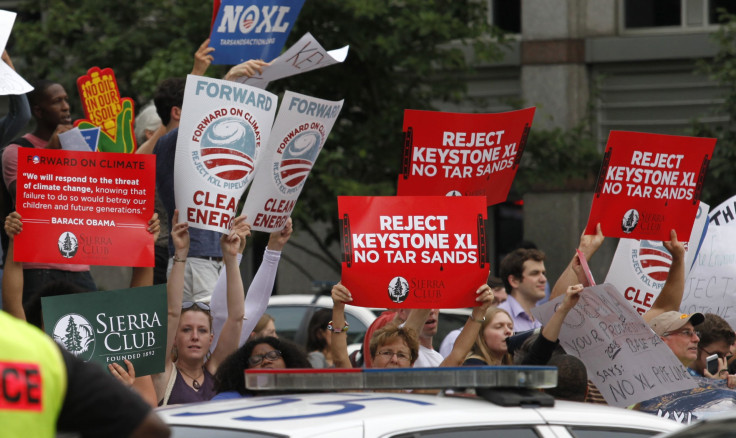 Americans continue to favor the controversial Keystone XL crude oil pipeline, while most also favor reduction in greenhouse gas emissions, according to a Pew Research Center poll released Thursday. The man they elected as president, who will decide the project's fate, has to somehow balance those interests.
While 65 percent of respondents favored the construction of the pipeline, which would bring oil from Alberta, Canada's abundant tar sands to the U.S. Gulf Coast's many refineries, nearly two-thirds of the public also favor stricter emissions limits on power plants.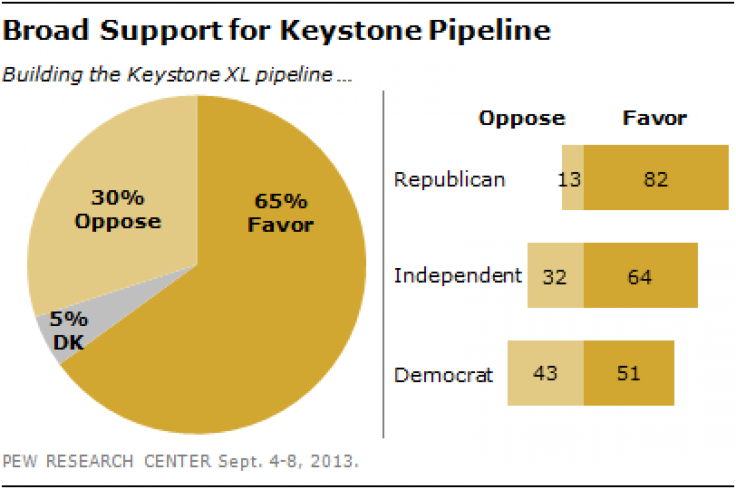 The poll comes as the Obama administration released its Biennial Report as part of the 2014 Climate Action Report, which outlines how U.S. action on climate change puts the country on a path to reach an ambitious goal of reducing U.S. greenhouse gas emissions 17 percent by 2020.
Opponents of the Keystone project, to be built by Canada's TransCanada Corporation (NYSE:TRP), say extracting crude oil from tar sands is more energy- and carbon-intensive than producing conventional crude oil. The National Resources Defense Council claims that if the pipeline is approved, it will add 1.2 billion metric tons of carbon pollution to the atmosphere during its 50-year lifespan.
Not surprisingly, proponents say the benefits of building the pipeline outweigh the environmental risks by reducing U.S. dependence on foreign oil from countries that produce and transport petroleum with virtually no environmental regulations. The project will also create 20,000 jobs, according to TransCanada, which expects to spend $7 billion in the U.S. to build it.
President Barack Obama faces mounting pressure to exploit the strategic and lucrative commodity while also ensuring his climate action plan reaches its goal.
The president's Climate Action Plan, released in June, builds on a set of emissions-reduction initiatives started in 2009. The administration also recently put in place the country's first national carbon pollution standards for new and existing power plants.
Like Americans, most Canadians also favor the Keystone project, according to Ottawa-based Nanos Research.
TransCanada, various labor unions and many in the Canadian government, including Prime Minister Stephen Harper, have been pushing for the approval of the Keystone project because of its expected positive economic impact.
"My view is that you don't take no for an answer," Harper said in one of his harshest comments about project opponents. "We haven't had that [from the U.S.], but if we were to get that, that won't be final. This won't be final until it's approved and we will keep pushing forward."
Even though most may support the construction of the pipeline, Obama has the sole ability to approve it. Currently, the State Department is determining whether the project is in the U.S.' national interest.
© Copyright IBTimes 2023. All rights reserved.