MS-13 Gang: U.S. Takes Steps To Dismantle Mara Salvutracha's Finances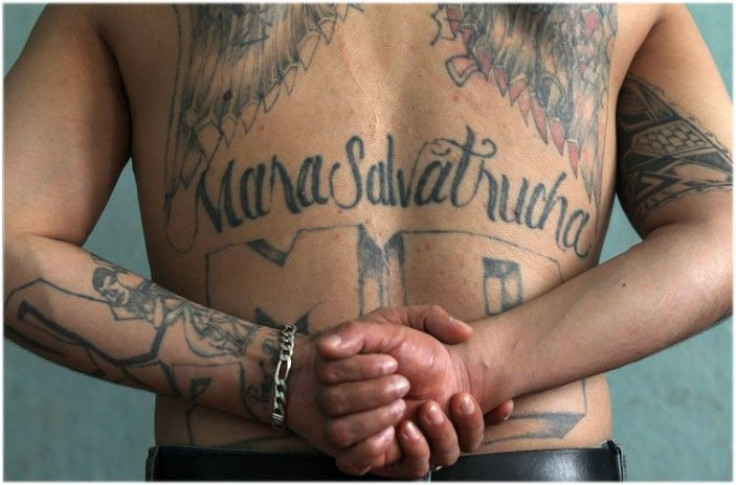 In an effort to curb the notoriously violent MS-13 street gang, the U.S. government Thursday labeled the El Salvadoran group a transnational criminal organization so it can go after its finances.
"MS-13 is an extremely violent and dangerous gang responsible for a multitude of crimes that directly threaten the welfare and security of U.S. citizens, as well as countries throughout Central America," Treasury Under Secretary for Terrorism and Financial Intelligence David S. Cohen said in a statement announcing the designation. "This action positions us to target the associates and financial networks supporting MS-13, and gives law enforcement an additional tool in its efforts to disrupt MS-13's activities."
MS-13, also known as Mara Salvatrucha or La Mara, was founded in Los Angeles by El Salvadoran immigrants fleeing the country during its civil war in the 1980s. It has since risen to a gang with a presence in 46 states and 30,000 members.
The gang's trademark is its brazen violence, which runs the gamut from machete attacks to beheadings. One of MS-13's mottos is "Mata, raba, viola, controla," or "Kill, steal, rape, control," according to the Treasure Department. The El Salvadoran group is involved in a number of crimes, including murder, racketeering, drug trafficking, sex trafficking and human trafficking.
Groups of MS-13 members, or cliques, have direct communication with the gang's higher-ups in El Salvador, according to the Treasury Department. This includes whether MS-13 should move into new territories or recruit new members. Money generated by the cliques is sent back to the group's leadership in El Salvador.
By labeling MS-13 a transnational criminal organization, the U.S. government can take steps to prevent the gang from funneling money or for U.S. citizens to do business with the group.
Before Thursday's announcement, only three gangs were considered by the government to be transnational criminal organizations: the Brother's Circle, based in Russia; the Italian-based Camorra; the Mexican drug cartel the Zetas; and Japanese Yakuza.
"This designation allows us to strike at the financial heart of MS-13 and is a powerful weapon in our fight to dismantle one of the most violent, transnational criminal organizations operating today," said John Morton, director of U.S. Immigration and Customs Enforcement. "History has proven that we can successfully take down organized crime groups when we combine sophisticated investigative techniques with tough street level enforcement, cutting off cash flows, contraband and collaborators to ensure they no longer find safe haven in our communities."
© Copyright IBTimes 2023. All rights reserved.