Mugabe Threatens More Indigenization: Will Western Companies In Zimbabwe Pay The Price For Sanctions?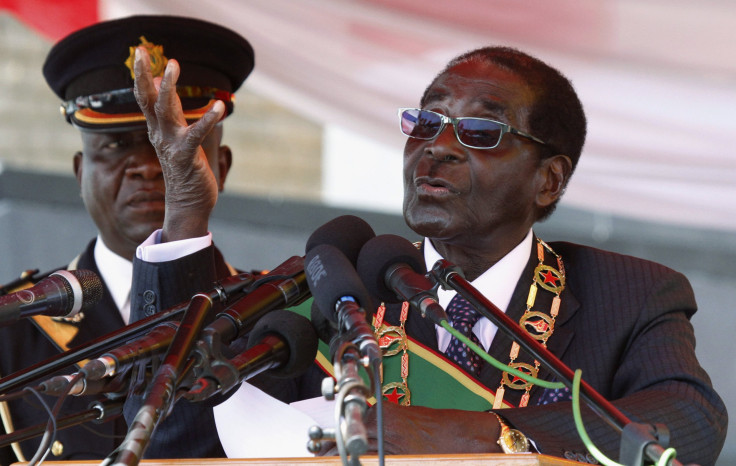 Zimbabwean President Robert Mugabe is getting more and more serious about making Western companies and their governments pay for international sanctions against his country.
More than half of Zimbabwe's citizens live in poverty, the infrastructure is in shambles, power shortages are chronic, food insecurity is endemic and economic growth is stunted. Mugabe points to sanctions as a major cause for these woes and often rails against foreign influence and calls for all foreign companies on Zimbabwean soil to be majority-owned by black Zimbabweans.
Mugabe's mandate, which became law in 2008, has been difficult to implement given the logistical challenges involved. But, on Sunday, Mugabe threatened to follow through with his plan more forcefully.
"They should not continue to harass us, the British and Americans," he said in a speech in the capital city of Harare, according to AFP. "We have not done anything to their companies here, the British have several companies in this country, and we have not imposed any controls, any sanctions against them, but time will come when we will say well, 'Tit for tat, you hit me I hit you'."
Corporations that have already been affected include the Anglo American (LON:AAL), a mining company focused on platinum, one of Zimbabwe's most abundant resources; and Rio Tinto (LON:RIO) which has a diamond-mining operation in the country; and Barclays (LON:BARC), which has lately been expanding its presence in Zimbabwe by opening up new branches and ATMs across the country,
Mugabe and his political party, the Zimbabwe African National Union - Patriotic Front, or ZANU-PF, came away with a sweeping victory in last month's election, which international observers have condemned for irregularities.
This will be the president's seventh term in office. He has ruled Zimbabwe since it first gained independence in 1980, but politically-motivated violence and disastrous fiscal mismanagement have prompted policy-makers in the United States and the European Union to impose sanctions against scores of people and entities close to the administration.
Ahead of the president's re-inauguration on Thursday, regional leaders at a conference for the South African Development Community called on Western governments to rethink those sanctions, arguing that they hurt Zimbabwe's development.
The U.S. and the EU both utilize targeted sanctions against Zimbabwe to freeze the assets of key officials and prohibit Westerners from doing business with certain institutions. They do not, however, outlaw overall trade.
Last year, U.S.-Zimbabwe bilateral exchanges amounted to $110 million and trade between Zimbabwe and the EU was $875 million. Furthermore, both the U.S. and the EU contribute hundreds of millions of dollars in humanitarian aid annually to Zimbabwe.
Because these sanctions target individual people and entities, it is easy for the U.S. and the EU to remove them in bits and pieces. As a result, sanctions have become a tool for leverage, with Western powers rolling them back in order to reward progress in Harare. This year, for instance, the passage of a new constitution limiting Mugabe's powers spurred Washington to remove two Zimbabwean banks and eight people from its sanction list. Brussels removed eight institutions and 81 people.
However, for Mugabe, that's not enough. And now, the hundreds of Western firms that operate in Zimbabwe will be watching to see whether ZANU-PF follows through on its indigenization plans.
Western governments, meanwhile, remain unmoved. Citing the flawed election, the U.S. has decided not to lift any sanctions while British officials have also criticized the July vote, and while the EU is evaluating its relationship with Zimbabwe, it is unlikely to lift any more sanctions at this point.
FOLLOW MORE IBT NEWS ON THE BELOW CHANNELS