MVP Addresses Bucks Future, Wanted Kawhi To Re-Sign With Raptors
Giannis Antetokounmpo led the Milwaukee Bucks to the best record in the 2018-19 NBA regular season with a league-best 60-wins. They also made it to the Eastern Conference finals where they lost to eventual champions Toronto Raptors.
The "Greek Freak" as Antetokounmpo is fondly known, was also named the MVP after finishing the season with a career-high 27.7 points, 12.5 rebounds, 5.9 assists, 1.5 blocks and 1.3 steals per game. He is keen to continue their momentum into the new season and is hoping to go one step further and make it to the NBA Finals in 2020.
Antetokounmpo is currently entering the third year of his four-year $100 million deal he signed with the Bucks and can become an unrestricted free agent in 2021. However, he sees no reason why he cannot spend the rest of his career with the Milwaukee franchise, similar to the likes of Kobe Bryant, Dirk Nowitzki or Tim Duncan, who remained loyal to one franchise throughout their careers.
The Greek star is keen to win the NBA championship and suggested that as long as the Bucks give him the opportunity to challenge for the title he is ready to commit his long-term future to the team. He is even ready to commit his post-NBA career to the franchise that has made him one of the best in the league at the moment.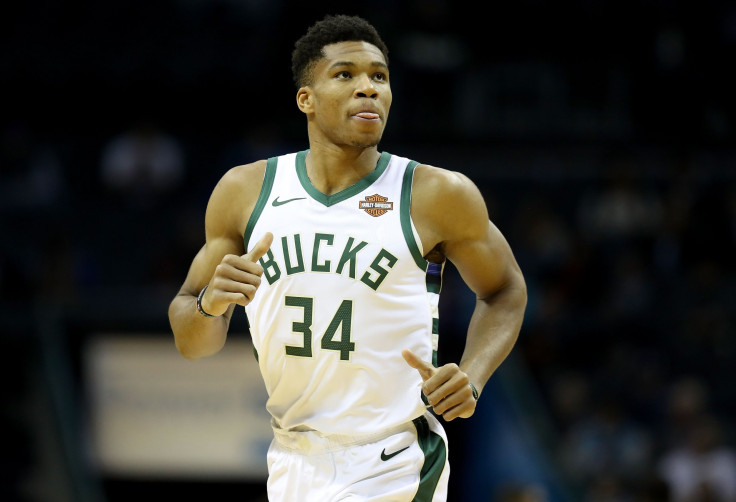 "My goal is going to stay the same: It's get better, take it day by day, step by step, and the ultimate goal is to win a championship," Antetokounmpo told ESPN recently.
"As long as that we are all on the same page and we are all focused on that goal, why not play for the Bucks 20 years, why not play 25 years? Why not, after playing, be a member of the coaching staff or a member of the front office? But we got to have the same goal. We got to have the same principles. We got to focus on winning a championship," he added.
Antetokounmpo also spoke about Kawhi Leonard leaving reigning NBA champions Toronto Raptors to join the Los Angeles Clippers in free agency. The Bucks star admitted that he wanted another go at the two-time NBA Finals MVP but is hoping the Bucks can take advantage of the Eastern Conference getting weaker and go one step further next season.
"For me personally, I would love for Kawhi to stay in the East and stay in Toronto because I would love to go through the series (with them) again," Antetokounmpo said. "But unfortunately, this is the NBA we are talking about. Moves happen. People change teams. But we got an opportunity right now. We got to take advantage of it, and hopefully, we can seize the opportunity and make big things happen."
© Copyright IBTimes 2023. All rights reserved.