Myanmar Air Force Bomb Kills 4 In Chinese Village, China Steps Up Security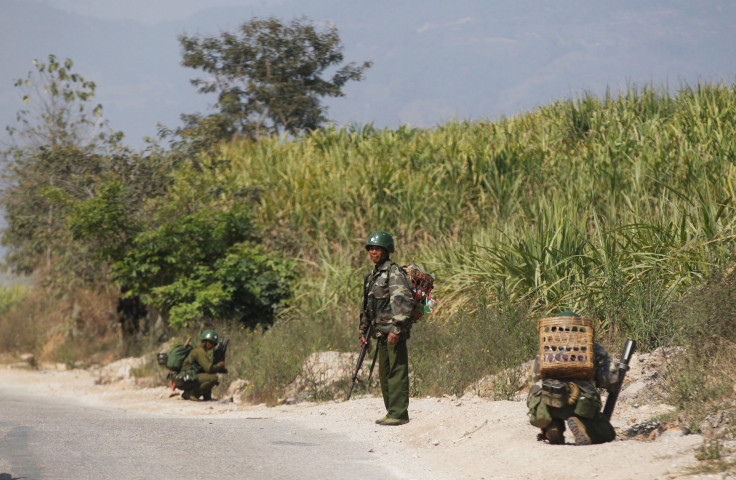 Chinese authorities have stepped up security along the country's border with Myanmar and registered a diplomatic protest Saturday after Myanmar government planes dropped a bomb on Chinese territory, killing four, according to local media reports.
The incident took place on Friday, when a Myanmar government MiG-29 fighter jet dropped a bomb on a sugarcane field in China's Yunnan province, killing four people who were working there, Xinhua reported. There have been at least three similar incidents of bombs from Myanmar government forces falling in Chinese territory in recent weeks, Radio Free Asia reported Thursday.
China's Air force spokesman Col. Shen Jinke said warplanes had been dispatched to the border to deter Myanmar's planes, and added that Beijing would keep a closer eye on the airspace in the coming days, the Associated Press reported.
Liu Zhenmin, China's vice foreign minister, also summoned Myanmar's ambassador on Friday to register protest. Hong Lei, a foreign ministry spokesman, told local news site GoKunming that China had been in communication with Myanmar's authorities and demanded a response to the incident.
"Conflicts in the Kokang region in northern Myanmar have been raging on for more than a month, disturbing the stability and normal order of China-Myanmar border areas. China once again urges relevant parties to exercise restraint, calm things down on the ground at an early date, and restore peace and stability in northern Myanmar," he said.
Earlier in the week, the Chinese foreign ministry said a nearby gunfight between Myanmar's government forces and a local militia had damaged a house in China, CCTV America reported.
The border between China and Myanmar is porous, and thousands of people have fled across it as fighting has intensified in recent weeks. Rebels from Myanmar's Kokang region, known as the Myanmar National Democratic Alliance Army (MNDAA), had killed over 50 Myanmar soldiers and police officers last month, an incident which led Myanmar's President Thein Sein to declare a state of emergency and impose martial law in the region.
The rebels are reportedly using Chinese telecommunications and have significant ties to China. A senior People's Liberation Army (PLA) strategist was also revealed to have leaked state secrets to the MNDAA less than a week before the bombings, underscoring the diplomatic tension between the two nations.
Reports from Myanmar have alleged that Chinese mercenaries have been spotted fighting alongside the MNDAA, who are ethnically Chinese, and that they have been seen using Chinese-made weapons. China has denied any allegations of fueling the conflict or providing support to the rebels, and has officially adopted a policy of non-interference.
Chinese companies have also been found operating illegal commercial ventures, including logging operations, in Myanmar's territory, for which 155 Chinese nationals were arrested in January.
The MNDAA is a remnant of Chinese-backed guerrilla forces loyal to the defunct Communist Party of Burma. The rebels had previously brokered a truce with Myanmar, which was broken in 2009, when Myanmar government forces pushed the MNDAA out of Kokang, ending a 20-year ceasefire.
© Copyright IBTimes 2023. All rights reserved.
FOLLOW MORE IBT NEWS ON THE BELOW CHANNELS