Myanmar Police Arrest 5 Students In Crackdown On Protesters Opposing New Education Law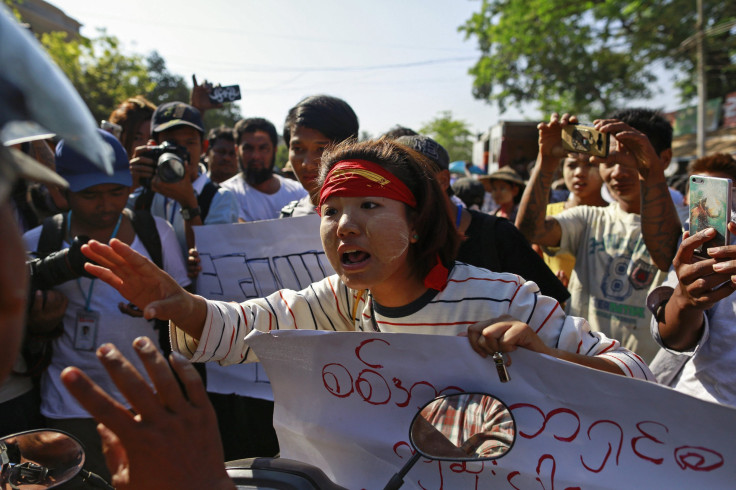 Myanmar police arrested five students on Friday after clashes broke out between law enforcement officials and protesters opposing the country's new education law. Security forces barred the entry of about 200 protesters into the commercial hub of Yangon, media reports said.
Protests have continued for over a month against the law that students claim curbs academic freedom. The new law reportedly puts decisions about education in the hands of the government rather than universities. Several students reportedly marched from the central city of Mandalay but were stopped by police in Letpadan, nearly 90 miles from Yangon, Myanmar's largest city. The government warned of actions against the student protesters if they attempted to enter Yangon, according to The Associated Press (AP).
The five students were arrested for breaking from the larger crowd and marching through Letpadan while accusing police of using violence against the protesters, a witness told Reuters. Education activists continued to stage a sit-in at Letpadan, according to a local report.
Earlier on Friday, eight demonstrators were released after being arrested a day earlier in downtown Yangon for showing solidarity with the protesters in Letpadan. Witnesses said that police charged at some protesters with batons and dragged them into trucks, AP reported.
Meanwhile, a similar crackdown was launched by police on Wednesday against factory workers protesting for higher wages and better working conditions in an industrial area outside Yangon. On Friday, police charged 14 garment workers with rioting during the protests. The eight men and six women were arrested for blocking roads on Wednesday, and could face up to two years in jail if convicted, the Agence France-Presse reported, citing local media.
© Copyright IBTimes 2023. All rights reserved.