Myanmar Lawmakers Block Aung San Suu Kyi's Presidential Run, Keep Military Veto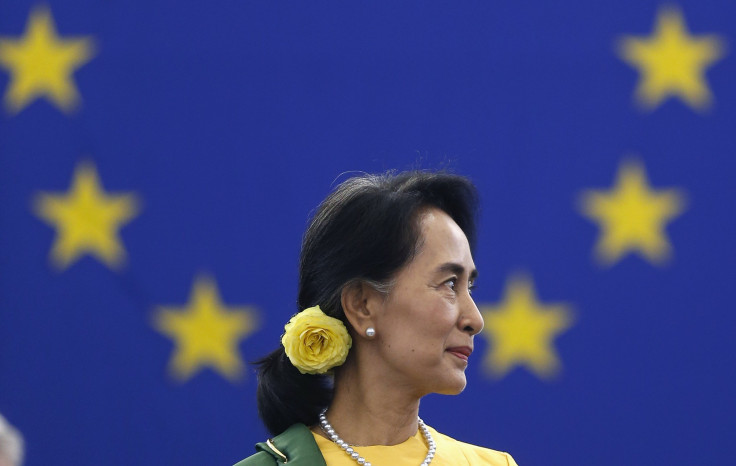 Myanmar's parliament voted against constitutional amendments on Thursday that would have loosened the military's grip on power and allowed opposition activist Aung San Suu Kyi to run for president.
The country's legislature concluded a three-day debate on proposed changes to the 2008 constitution that would have ended the military's veto power and allowed Nobel Peace Prize winner Suu Kyi to contest the presidency. However, both the potential changes were rejected.
Suu Kyi's National League for Democracy Party is expected to make major gains against the ruling Union Solidarity and Development Party in the upcoming November elections, although no election date has been set yet.
"I am not surprised with the result. Those who didn't vote for the change have shown they are against change," Suu Kyi said, according to the Associated Press.
Her party won a sweeping victory in the last free elections in 1990, but the military junta ignored the results and placed her under house arrest for 15 years. The junta enacted sweeping reforms in 2011 that opened the country to the international community and reintroduced democracy, and Suu Kyi was released along with hundreds of other activists. However, the military maintains control over a quarter of the legislature that gives it the veto power.
Thursday's vote struck down a proposal that would have lowered the number of votes needed to amend the constitution from 75 percent to 70 percent, and would have removed the military's veto tactic. The other amendment would have removed a clause that prevents anyone whose spouse or children are loyal to a foreign country from running for the position of president or vice president. Suu Kyi's late husband and two sons are British citizens. Suu Kyi's party had contested the clause and called for it to be struck down.
"If someone is respected and loved by the whole country, no limit should be placed on that person for the presidency," National League for Democracy lawmaker Naing Ngan Lin said during the debate, according to Reuters.
In the parliamentary debate, Brigadier General Tin San Naing, one of 166 military lawmakers, said on Tuesday that the country was "not mature enough" for full democracy. "Myanmar is still in a democratic transition ... stability and reconciliation are very important in this period and democratic practices are not mature enough yet."
© Copyright IBTimes 2023. All rights reserved.