Hijab Ban 2015: Buddhist Monks Propose Anti-Muslim Measure On Myanmar Schoolgirls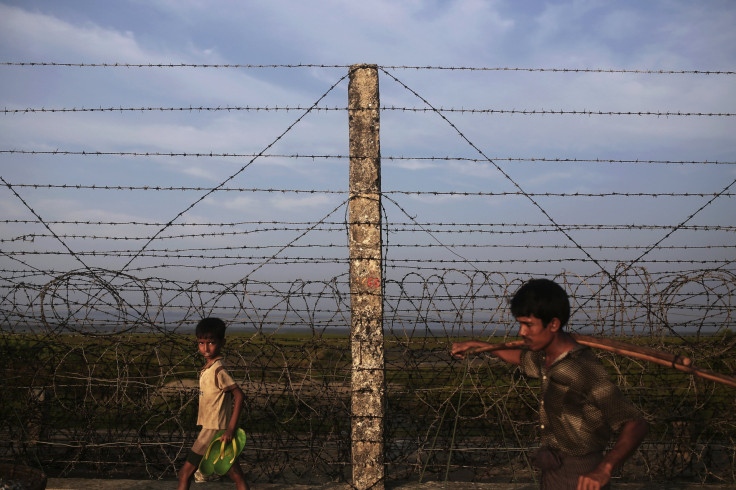 A powerful group of Buddhist monks in Myanmar advocated a ban on the wearing of hijabs by Muslim schoolgirls at a conference last weekend, as ethnic Muslims in the country contine to face widespread discrimination and persecution. At a conference in Yangon held by the Organization for the Protection of Race and Religion, a group of monks locally called Ma Ba Tha declared that the headscarves "were not in line with school discipline," according to the Guardian.
The Rohingya, an ethnic Muslim minority within Myanmar, are not currently recognized as citizens by the nation's government and have been subjected to violence and slavery. The U.S. Holocaust Museum has described the state persecution as a genocide.
Roughly 1,300 monks participated in the Ma Ba Tha conference and contributed to a list of recommendations for the Myanmar government that was released on Sunday, reports the Guardian. "We will demand seriously for the government to ban Muslim students wearing the burqa in government schools and to ban the killing of innocent animals on their Eid holiday," the document urged, according to the Guardian. The recommendation refers to the Eid al-Adha holiday in the Muslim tradition, which involves sacrificing an animal for a feast and donating part of its meat to charity. The sacrifice goes against traditional Buddhist beliefs.
Ma Ba Tha began in June 2013 in the midst of massive violence against the Muslim minority by Buddhist mobs and holds great political influence over the nation's government.
The group's recommendation to ban the hijab on schoolgirls will most likely further alienate Muslim communities from education in Myanmar, as the government has already denied access to schooling for roughly 60,000 Rohingya children, according to the Holocaust Museum.
"The Ma Ba Tha have become an unaccountable and arrogant political force based on extremist religious and social views, like a fifth column using Buddhism to serve shady political and economic interests," said David Mathieson, a senior researcher on Burma for Human Rights Watch, to the Guardian.
A group of Rohingya refugees were given a Muslim burial today in Malaysia after being found in a shallow grave in the jungles bordering Thailand, according to the Associated Press. Officials believe that the 21 bodies, found alongside 85 others, were human-trafficking victims who died after paying smugglers to help them escape persecution in Myanmar.
© Copyright IBTimes 2023. All rights reserved.
FOLLOW MORE IBT NEWS ON THE BELOW CHANNELS