Myanmar Sends Police, Soldiers To Protect Ancient Temples Damaged In Quake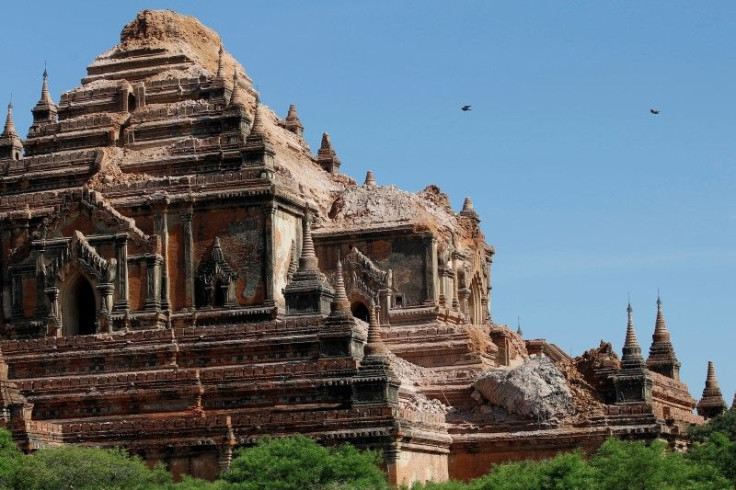 Myanmar sent truckloads of soldiers and squadrons of police to protect and rebuild centuries-old Buddhist pagodas around the ancient capital of Bagan on Thursday, a day after at least 187 of the brick temples were damaged in a powerful earthquake.
The Fire Department and authorities scrambled to assess the full extent of the damage from the 6.8 magnitude quake that shook buildings across the Southeast Asian country on Wednesday.
But the overall damage and impact on local residents appeared limited, government officials said. Most reports were of damage to the famed pagodas in central Myanmar, particularly around Bagan, and smaller, basic buildings.
Red Cross officials said they received reports of three people who died in the tremor - two children and one resident from two towns close to the epicenter.
The U.S. Geological Survey (USGS) said the quake struck near the town of Chauk, south of Bagan, about 175 km (110 miles) southwest of the country's second city Mandalay at around 5 p.m. (1030 GMT). Tremors were felt as far away as Thailand, Bangladesh and India.
Amanda George from the International Red Cross in Myanmar said that while the organization continued to provide help and assistance in search and rescue operations, it was not treating it as a major emergency situation.
"The government-run National Emergency Operation Centre stood down at about 8 p.m. last night. We normally follow their lead and coordinate closely," said George.
"We continue to provide assistance to injured people, but we don't see this as a major disaster."
Reuters witnesses saw trucks of soldiers moving into Bagan on Thursday morning. Police officers cordoned off most of the damaged ancient pagodas.
Bagan, the centerpiece of Myanmar's fast-growing tourism industry, has around 2,000-3,000 pagodas and temples, spread over a 42-sq km plain ringed by mist-covered mountains. It rivals Cambodia's Angkor Wat and Borobudur in Indonesia as Southeast Asia's premier archaeological site.
"I am very sad because our ancient pagodas are damaged and some have collapsed now. I hope nothing like that happens again," said Aung Naing Win, 32, a craft maker from Bagan.
"But perhaps the authorities should leave some damaged ones unrepaired so that future generations can see such disasters happen," he said.
Myanmar is in a seismically active part of the world where the Indo-Australian Plate runs up against the Eurasian Plate. A magnitude 6.9 tremor hit northwestern Myanmar in April but caused no major loss of life.
The Fire Department and police in the town of Pakkoku - the biggest of the towns close to the epicenter - said many buildings were cracked and it has sent several trucks to assess the damage.
In Chauk, one building had nearly collapsed and was sealed off, according to a local official from the ruling National League for Democracy (NLD) party.
"Other buildings have visible cracks, but apart from that there's no extensive damage," said Maung Maung Kyaw.
© Copyright Thomson Reuters 2023. All rights reserved.