Myanmar Will Not Be Allowed To Lead ASEAN In 2026 Due To 'Continued Acts Of Violence'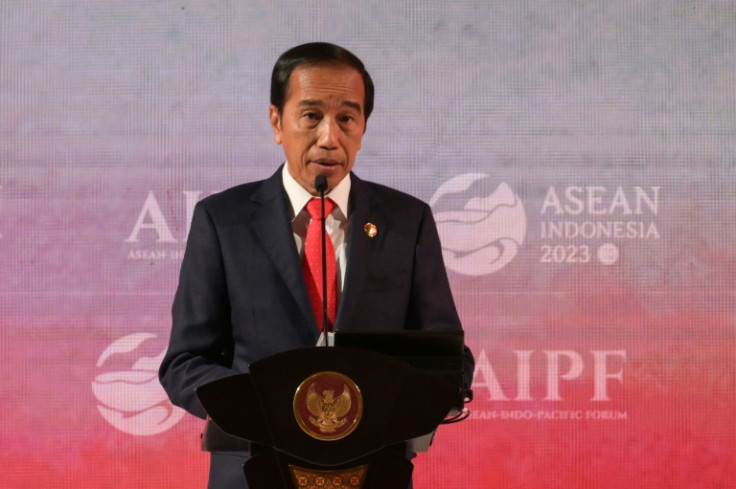 KEY POINTS
ASEAN decided that Myanmar will not be taking over the rotating leadership of the grouping in 2026 as planned
The Philippines will take over the regional bloc's chairmanship in 2026 instead of Myanmar
Myanmar, also a member of ASEAN, rejected the statement and called it biased and one-sided
Leaders of the 10-member Association of Southeast Asian Nations (ASEAN) have decided that Myanmar will not be taking over the rotating leadership of the grouping in 2026 as previously planned. The decision comes as a result of the continuing violence in the country, which member nations of the bloc have attributed to the military generals who seized power in a coup in 2021.
Myanmar, also a member of ASEAN, rejected the bloc's decision and called it "biased" and "one-sided."
Ahead of meeting their Asian and Western counterparts on Wednesday and Thursday, ASEAN leaders met Tuesday at the regional bloc's summit being hosted by Indonesia in Jakarta. The member nations decided that Myanmar would not be taking over the rotating leadership of ASEAN and "strongly condemned" the violence and bloodshed in the country since the military violently seized power in 2021.
ASEAN leaders agreed during the closed-door meetings that the Philippines would take over the regional bloc's chairmanship in 2026 instead of Myanmar.
"It is my pleasure to announce that the Philippines is ready to take the helm and chair ASEAN in 2026," Philippine President Ferdinand Marcos Jr. told ASEAN leaders during the meeting, according to a statement.
ASEAN leaders also said Myanmar's top generals had failed to comply with a five-point domestic peace plan that the grouping had crafted in 2021. Myanmar accepted the plan in 2021, soon after the military takeover, but largely failed to implement it, resulting in the country being barred from participating in high-profile events.
Since the military coup in 2021, reports from the country have accused the military of carrying out war crimes and attacks on civilians. According to the Assistance Association for Political Prisoners (AAPP), more than 4,000 people, including pro-democracy activists and civilians have been killed and more than 24,600 arrests have been made by Myanmar security forces.
In a statement following Tuesday's meeting, ASEAN leaders urged "the Myanmar Armed Forces in particular, and all related parties concerned in Myanmar to de-escalate violence and stop targeted attacks on civilians, houses and public facilities, such as schools, hospitals, markets, churches and monasteries."
"We strongly condemned the continued acts of violence in Myanmar," the statement added.
Myanmar's foreign ministry rejected the ASEAN statement and said their leaders were consulted on the draft, but their "views and voices" were not taken into account. It also noted that the country's leaders were not present in Jakarta.
"The views are not objective and decisions are biased and one-sided," said the statement published in the state-run Global New Light of Myanmar on Wednesday.
© Copyright IBTimes 2023. All rights reserved.