ASEAN Summit: India Looks At Cementing Its Position As Voice Of Global South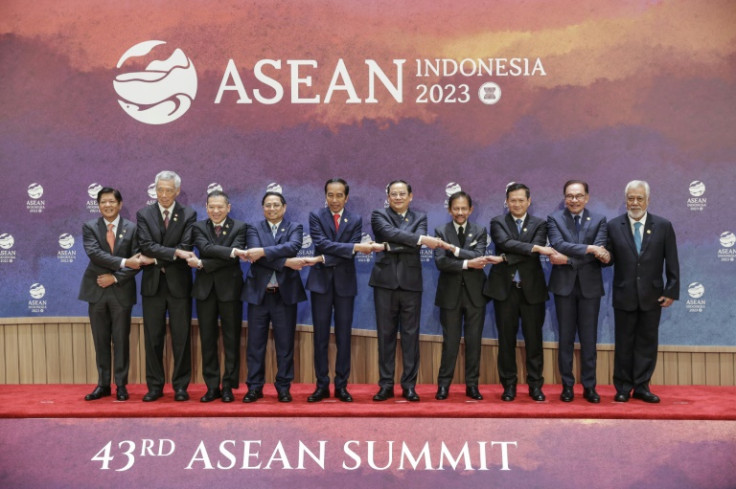 KEY POINTS
Indian Prime Minister Narendra Modi will be in Indonesia on Sept. 6-7 for the ASEAN summit
The summit "will review the progress of India-ASEAN relations," India's Ministry of External Affairs said
ASEAN is important in India's policy for the Indo-Pacific and had elevated their relationship to Comprehensive Strategic Partnership in 2022
Indian Prime Minister Narendra Modi will be attending this week's ASEAN summit, which will be the first meeting of the leaders since the elevation of India-ASEAN relations to a Comprehensive Strategic Partnership last year.
Modi will be traveling to Jakarta on Sept. 6-7, and the summit "will review the progress of India-ASEAN relations and chart the future direction of cooperation," India's Ministry of External Affairs said in a statement.
As the Indo-Pacific has become a theater for strategic competition between big powers, India's ties with ASEAN are important in pushing issues of the global south to the world's center stage.
"India seeks to give voice to the global south's problems and bridge the divide between the North and the South and the East and the West," Udai Bhanu Singh, senior strategic analyst and expert on the Indo-Pacific, formerly with Manohar Parrikar Institute for Defense Studies and Analyses, told International Business Times.
ASEAN--made of ten countries: Brunei, Cambodia, Indonesia, Laos, Malaysia, Myanmar, the Philippines, Singapore, Thailand, and Vietnam--is a key pillar in India's Indo-Pacific vision, and is important in helping New Delhi materialize its vision of becoming a voice for the global south.
"India sees ASEAN as a key partner in promoting peace, stability, and prosperity in the region. ASEAN is also a major economic and strategic player in the Indo-Pacific, and India has been committed to strengthening its ties with ASEAN," Om Prakash Das, Research Fellow with the Southeast Asia and Oceania in the MP-Institute for Defense Studies and Analyses, told IBT.
"India and ASEAN share many strategic interests, such as the need to maintain peace and stability in the region, and to promote freedom of navigation," he added.
Sampa Kundu, a consultant for the ASEAN India Center at the Research and Information System for Developing Countries (RIS), noted that India supports ASEAN-led initiatives and programs and together have seen a number of achievements in the last three decades.
"There are common issues like transnational terrorism, cross-border insurgency, illegal movement of people, narcotics trafficking, environmental disaster and climate change and many other areas where India and ASEAN are working together. India's infrastructure and connectivity projects in the ASEAN region are noteworthy," she told IBT.
"ASEAN is a well-connected region with a booming economy and India's proactive role can benefit both sides," she added, noting that other aspects like the "history, civilizational aspects, tourism, people-to-people contacts [and] educational cooperation" can also strengthen the ASEAN-India partnership.
An unspoken issue that glues ASEAN countries together is keeping China's intimidating influence in check, even though they maintain strong trade relations with Beijing.
For long, the power balance in the region meant most of ASEAN saw China as the primary economic partner and the U.S. as the primary security guarantor. However, the U.S.-China rivalry has triggered shifts in regional geopolitics and geoeconomics.
"The escalating Chinese aggression and assertiveness in the South China Sea and the Indian Ocean are sources of concern, prompting ASEAN to align with India in countering China's influence in the region. India and ASEAN stand as crucial partners in upholding maritime security," Das said.
Amidst global efforts to counterbalance China, India has become a key player in the region's power contestation without going against its nature of maintaining diplomacy through strategic autonomy.
Moreover, "India's increasing recognition in various international forums (including the UN, SCO, BRICS and Quad)" has given the country an opportunity to highlight problems faced by the global south, Singh noted.
"It is an opportunity for India to set the priorities or agenda for the global south," he said. "In addressing the problem of climate change, post-pandemic recovery, supply chain disruptions, developed and developing nations can realign their priorities to meet the developmental priorities and aspirations of the Global South. India is the voice for Global Financial mobilization and India can shine the light for progress towards Sustainable Development Goals."
Singh also believes that India's conscious effort in maintaining strategic autonomy is bolstering its image on the global front.
"India's voice is heard because it is doing this without having to side with any Major Power. India's Strategic Autonomy policy has meant that it has kept itself consciously away from any form of military alliance," he added.
This year, India also holds the G20 presidency and has used this as a tool to push New Delhi's voice on the global stage. India took over the G20 presidency from Indonesia last year, and will pass it on to Brazil for next year's G20 summit.
"With India's G20 Presidency, India and Indonesia had opportunities to work together and lead the voice of the Global South together. The G20 Troika also serves the same purpose," Kundu said.
© Copyright IBTimes 2023. All rights reserved.