Myanmar's Aung San Suu Kyi Ill But Denied Care Outside Prison; It's 'Callous And Cruel,' Says Son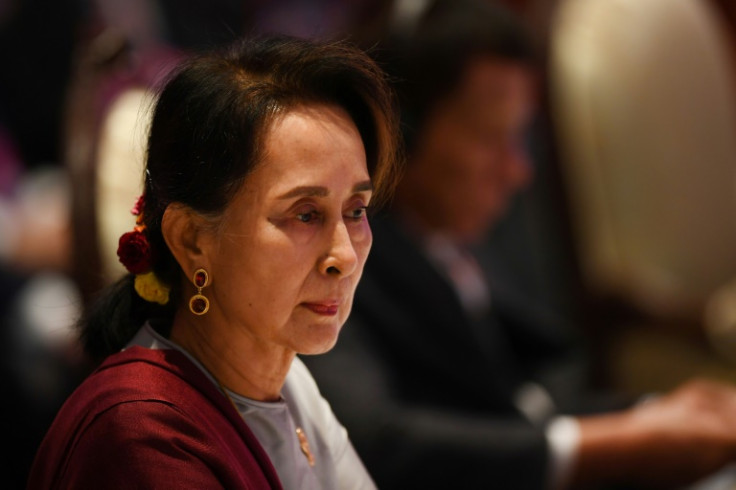 KEY POINTS
Suu Kyi is experiencing health issues but is being denied care at facilities outside the prison system
Her son, Kim Aris, appeals for her release from prison
Suu Kyi was imprisoned after the military takeover of Myanmar in 2021
Mynanmar's imprisoned former leader Aung San Suu Kyi is experiencing health issues but is reportedly being denied medical care at facilities outside the prison system.
The ousted leader, now 78, is suffering from symptoms of low blood pressure, including dizziness and loss of appetite, a medical worker told AP News on condition of anonymity.
Suu Kyi is unable to eat because of severe toothaches, BBC reported, citing unnamed sources.
Kim Aris, the Nobel laureate's son, said his mother has a painful gum disease but military authorities have blocked a request from prison authorities for her "urgent care."
"To deny a sick prisoner access to recommended medical care is callous and cruel," the 46-year-old, who is based in the U.K., told the outlet. "Anyone who has such painful gum disease that they are unable to eat obviously has their entire health at risk if suitable treatment is denied."
Suu Kyi is reportedly suffering from chronic gum disease and low blood pressure. Her gum issues have "gotten worse," BBC said, citing a person familiar with the situation.
Aris said it's been "tough" to not have any contact with her over the last two-and-a-half years, adding he feels "somewhat powerless" over the situation.
"Nobody outside the prison has seen her for a long time. Now, being unable to eat puts her life at risk. Given how many people lose their lives in prison in Burma, this is of grave concern," he told The Guardian.
Since the military coup in 2021, Myanmar has been ruled by a military junta. The military grabbed power in February 2021 and ousted Suu Kyi just months after her party, National League for Democracy, won a landslide victory in the November 2020 elections.
Top members of Suu Kyi's government and party were detained in the army takeover. Suu Kyi was arrested and convicted of a string of criminal charges. She was initially sentenced to 33 years in prison.
Supporters and activists say the charges against Suu Kyi, which include corruption, incitement and electoral fraud, were fabricated to quell her influence in the country and to legitimize the hostile military takeover.
Suu Kyi's sentence was cut down by six years last month.
Aris believes his mother's sentence reduction was just an attempt to improve the regime's international standing.
"I appeal to the military to release my mother, or at the very least agree to her being urgently treated by her doctor," he said. "The world can no longer turn a blind eye while letting the military continue their now well-documented brutality against their own citizens with impunity. The country is in a worse state than at any point in my life."
© Copyright IBTimes 2023. All rights reserved.