Narendra Modi Accuses Pakistan Of Making A 'Spectacle' Of Peace Talks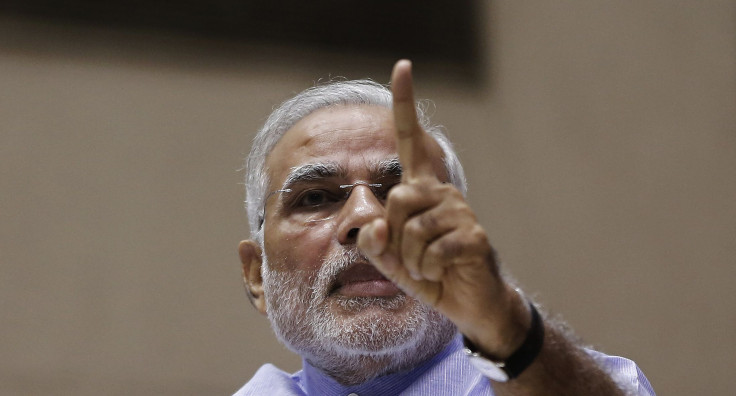 Indian Prime Minister Narendra Modi, on Friday accused Pakistan of making a "spectacle" of the peace talks between the two countries, after a Pakistani diplomat held meetings with Kashmiri separatist leaders. Modi said that India still seeks "peaceful, friendly and cooperative ties" with its neighbour.
Addressing journalists before his visit to Japan, Modi had said that his first meeting in May with Pakistan's Prime Minister Nawaz Sharif had been "very good," The New York Times reported.
"We, therefore, were disappointed that Pakistan sought to make a spectacle of these efforts and went ahead with talks with secessionist elements from Jammu and Kashmir in New Delhi just prior to the meeting of the foreign secretaries," Modi said adding that "any meaningful bilateral dialogue necessarily requires an environment that is free from terrorism and violence."
Modi's remarks are seen as a step to end hostilities between the two countries who have engaged in two weeks of unusually heavy artillery fire along their border. The nightly mortar attacks since mid-August have seen the deaths of two Indians and four Pakistani civilians with this week being more peaceful as military commanders from both sides met to discuss issues at hand.
The foreign secretaries of the two neighboring South Asian countries were scheduled to meet in Pakistan's capital on Aug. 25. However India pulled out of the talks after the Pakistan's High Commissioner in New Delhi, Abdul Basit held meetings with a delegation of Kashmiri separatists – The Hurriyat Conference – against the wishes of the Indian government. Basit went ahead with another round of talks with Kashmiri separatists the next day, the Indian Express reported.
Since achieving independence from the British in 1947, India and Pakistan have fought three wars against each other over Kashmir whose inhabitants are mostly Muslim. India has maintained a massive military presence after an violent insurgency began in 1990 and has repeatedy accused Pakistan of supporting Kashmiri insurgents and Islamist militants through terror training camps on its soil.
India has long held a non aggressive military stance by its no-first-use of nuclear weapons policy, however Modi's political party, Bharatiya Janata's manifesto had raised doubts about the policy when it promised to "study in detail India's nuclear doctrine, and revise and update it, to make it relevant to challenges of current times."
Modi clarified India's nuclear policy stand by saying: "While every government naturally takes into account the latest assessment of strategic scenarios and makes adjustments as necessary, there is a tradition of national consensus and continuity on such issues," and added: "I can tell you that currently, we are not taking any initiative for a review of our nuclear doctrine," in a transcript of the interview posted on the website of India's Ministry of External Affairs.
During his landmark visit to Japan on Saturday for a five-day visit, his first major bilateral trip since taking over in May, Modi is expected to push for a civilian nuclear trade deal similar to what India had signed with the United States in 2008 allowing New Delhi to pursue development of nuclear technology for military and civilian use. Japan has however asked for guarantees that India will not pursue military nuclear capabilities, according to the New York Times report. Modi's visit to Japan is being seen as an attempt by the two democracies to balance the rising weight of China across Asia.
© Copyright IBTimes 2023. All rights reserved.