Narendra Modi And Shinzo Abe Set To Sign Slew Of Agreements Between India And Japan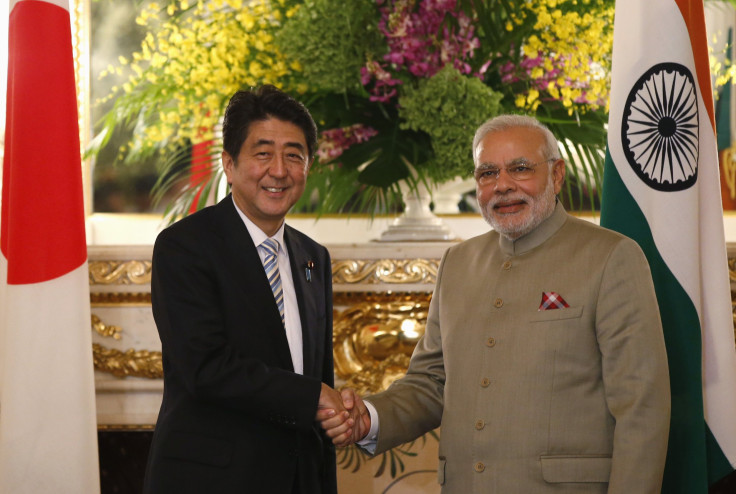 Indian Prime Minister Narendra Modi, on his first major foreign visit since coming to power in May, will discuss economic and security ties with Shinzo Abe, Japan's prime minister. Talks between the leaders of the two Asian giants are expected to accelerate a nuclear energy pact as well as ink an agreement on rare earths.
Modi and Abe will discuss a civil nuclear energy agreement, however, Japan has asked for clearer guarantees from India to limit nuclear testing and also to allow closer inspection of its nuclear facilities to make sure that nuclear fuel meant for civilian purposes is not used to make bombs. Japan is also expected to double its direct investment in India within the next five years. Japanese foreign investment in India stood at $2 billion last year, according to a BBC report.
The leaders are also expected to sign an agreement allowing the import of rare earths from India, as Japan looks for ways to be less dependent on China, which currently supplies a majority of its rare earths requirement. According to reports, nearly 2,300 tons of rare earths -- about 15 percent of Japan's rare earths requirement -- will be supplied by India with imports that could begin by February.
China, the world's largest producer of rare earths, has often been accused by Japan of holding supplies to gain political points. However, Beijing says it controls exports to conserve its natural resources and reduce pollution caused by mining the rare earths.
Also on the cards are military agreements that will see India and Japan hold joint training exercises in maritime defense and some of these exercises will involve the U.S. military as well.
Ahead of his visit, Modi reportedly said: "I am confident that my visit will write a new chapter in the annals of the relations between Asia's two oldest democracies and take our Strategic and Global Partnership to the next higher level."
Japan is helping India modernize its crumbling railway infrastructure and is also expected to pour funds into an industrial corridor that will run through the heartland of India from the northern capital of Delhi to the western port city of Mumbai.
In Kyoto over the weekend, Modi oversaw the signing of an agreement to develop the holy Indian city of Varanasi -- from where Modi won elections – into a "smart city" in partnership with the city of Kyoto.
The visit is perceived by many as an attempt by Modi to balance India's ties with key world powers as well as strengthen the country's position within the international community. The visit is also seen as an attempt to improve ties between the two Asian democracies so as to balance China's rising influence across Asia. India and Japan both share a history of territorial disputes with China.
© Copyright IBTimes 2023. All rights reserved.