NASA, Australia Teaming Up For Artemis' Mars, Moon Missions
NASA and Australia's newly-formed space agency has announced a new partnership focused on the former's upcoming Mars and Moon missions. As part of the collaboration, the Australian Space Agency will allocate $150 million for the development of new technology and concepts for NASA.
NASA's crewed spaceflight program, which focuses on a Mars expedition and a return to the Moon, is currently being carried out with the help of NASA's various partners including the European Space Agency, Canadian Space Agency and the Japan Aerospace Exploration Agency.
Recently, NASA added Australia in its list of partners for the program. The collaboration between NASA and Australia, which is expected to last for five years, will focus on the latter's commitment to delivering new technology such as robotics and automation. Australia will also provide NASA with remote asset management systems, which are currently being used by the country's mining operators.
For the partnership, the Australian Space Agency said it will triple its budget in order to support NASA's needs for its Artemis program. Jim Morhard, the deputy administrator for NASA, lauded the partnership and Australia's commitment to the program.
"We are honored by today's statement and the strong commitment of our friends from Australia to support us in our mission to return to the Moon by 2024 with the Artemis program," Morhard said in a statement.
"The strong relationship between NASA and the Australian Space Agency affirms NASA's commitment to establish sustainable exploration with our commercial and international partners by 2028," he added.
Although the Australian Space Agency was only formed in 2018, collaborations between NASA and the country date back to 1960. Back then, NASA signed an agreement with Australia's Commonwealth Scientific and Industrial Research Organization that allowed the space agency to use the country's various facilities and system to track its missions.
In addition, the rovers that will be used in NASA's Mars mission recently visited the Australian Outback because its terrain is very similar to that of the Red Planet.
NASA's Artemis program is expected to kick off in 2024 with a new crewed mission to the Moon. The agency will then use the lunar outpost as a jumping point for its first human expedition to Mars.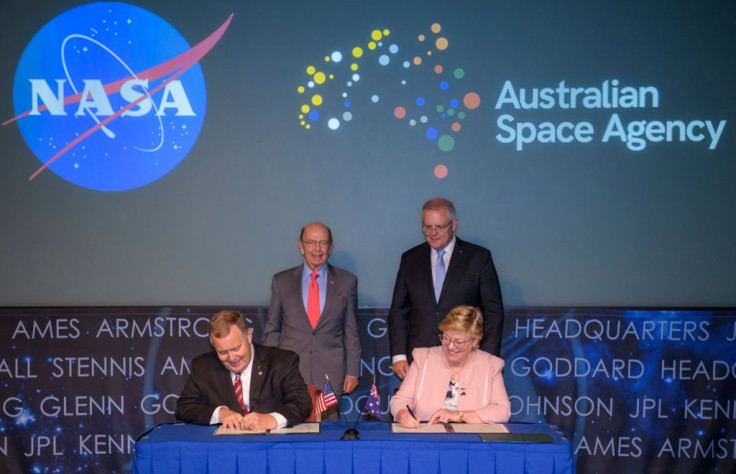 © Copyright IBTimes 2023. All rights reserved.
FOLLOW MORE IBT NEWS ON THE BELOW CHANNELS