NASA Is Getting Ready For Artemis 1 Launch; Here's What It Is All About
KEY POINTS
The launch is set for Aug. 29, 8:33 a.m. ET
The mission will last about three weeks
It will end with proof of Orion's position to safely return to the Earth
It's been 50 years since Apollo 17's historic lunar landing. Now NASA is gearing up to get mankind back on the moon again with Artemis 1, which is set to launch on Aug. 29.
Artemis 1 is the first in a series of missions designed to successfully get astronauts on the moon. It is an uncrewed flight that will serve as the "first integrated test of NASA's deep space exploration systems" comprised of the Orion spacecraft, the Space Launch System (SLS) rocket and the ground systems at Kennedy Space Center in Cape Canaveral, Florida, the agency noted in a news release.
"This is a mission that truly will do what hasn't been done and learn what isn't known," Mike Sarafin, Artemis 1 mission manager at NASA Headquarters in Washington, said in the news release. "It will blaze a trail that people will follow on the next Orion flight, pushing the edges of the envelope to prepare for that mission."
SLS and Orion will blast off from a launch pad called launch complex 39B at Kennedy Space Center in Florida.
The SLS rocket is the most powerful one since the Saturn V mission in the 1960s and 1970s. It was parked in a building at the Kennedy Space Center in Florida until now. The distance between NASA's Vehicle Assembly Building to the launchpad is about 4.2 miles, which the rocket will cover in approximately 10 hours at a speed of roughly 1 to 2 miles an hour, according to Space.com.
The rollout to the launch pad started at around 10 p.m. ET Tuesday and can be streamed live on NASA's YouTube channel.
Atop this rocket is the Orion spacecraft, which is meant to carry astronauts on space voyages lasting up to a few weeks.
Although the rollout is ahead of schedule by two days, the launch date is fixed. It is set to take place at 8:33 a.m. ET on Aug. 29, the New York Times reported.
"It [the rocket] will travel 280,000 miles from Earth, thousands of miles beyond the Moon over the course of about a four to six-week mission," NASA noted in the news release. "Orion will stay in space longer than any ship for astronauts has done without docking to a space station and return home faster and hotter than ever before."
The mission will last for about three weeks and end with proof of Orion's position to safely return to the Earth. The spacecraft will make a precision landing within eyesight of the recovery ship off the coast of Baja, California.
The mission will be followed by Artemis 2, which will orbit the moon with people on board by 2024, and Artemis 3, a moon landing mission with a crew that's set for 2025.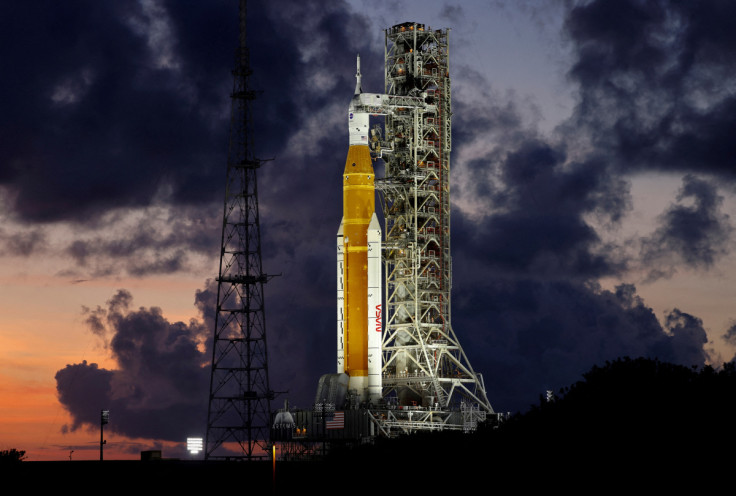 © Copyright IBTimes 2023. All rights reserved.