NASA Maps Damage Of Beirut Blast From Space
KEY POINTS
NASA mapped out the damage caused by the Beirut explosion
The agency used satellite data to map areas affected by the blast
Local officials cited improper management as one of the reasons behind the explosion
NASA was able to map out the extent of the damage caused by the Beirut explosion in Lebanon using images captured by satellites. The data collected by the agency shows the areas that were deeply affected by the powerful blast.
For the images, NASA used the data gathered by the European Space Agency's (ESA) Copernicus Sentinel satellite. It was analyzed and modified by NASA's Advanced Rapid Imaging and Analysis (ARIA) team in cooperation with Earth Observatory of Singapore at Nanyang Technological University.
As part of the project, the ARIA team combined synthetic aperture radar data with the images captured by Copernicus Sentinel. Synthetic radar data is usually used to monitor the effects of the changes caused by an earthquake.
In the images shared by NASA, the areas most affected by the explosion, which occurred in Lebanon's Port of Beirut on Aug. 4, appear as dark red pixels. Orange-colored areas received moderate damage, while the yellow pixels represent regions that experienced minor effects from the blast. NASA noted that each pixel in the image represents an area of 30 meters.
According to NASA, the map of the Beirut explosion's aftermath could help rescuers, local authorities and officials in identifying areas that were badly damaged due to the incident. By doing so, they'll be able to allocate the necessary resources to prioritize people in areas that need assistance.
Initial investigations revealed that the explosion was linked to 2,750 tons of ammonium nitrate that was stored in one of the port's facilities in 2013. The incident resulted in over 150 deaths and 5,000 wounded.
The compound, which is commonly used as fertilizer, came from a ship that was impounded by Lebanon's port authorities. Some local officials cited the lack of proper management and safety protocols as the main reasons behind the explosion of the compound.
"I think it is incompetence and really bad management and there are a lot of responsibilities from management and probably previous governments," Raoul Nehme, the Lebanese minister of economy and trade, told BBC. "We do not intend after such an explosion to stay silent on who is responsible for what."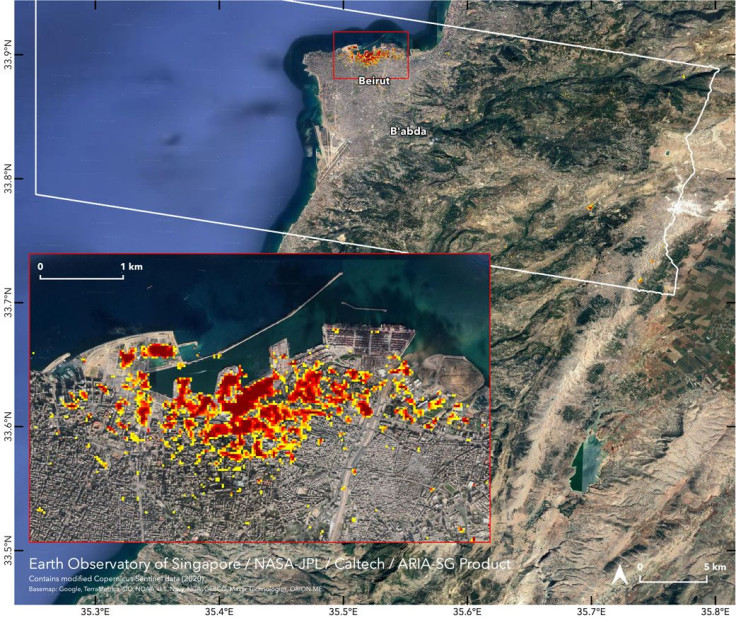 © Copyright IBTimes 2023. All rights reserved.
FOLLOW MORE IBT NEWS ON THE BELOW CHANNELS