NASA's OSIRIS-REx Captures Highest-Resolution Mosaic Yet Of Asteroid Bennu Sample Site
KEY POINTS
OSIRIS-REx captured the highest-resolution mosaic yet of site Osprey on asteroid Bennu
Osprey is the backup sample site for the collection attempt scheduled for October
If things go according to plan, OSIRIS-REx will return to Earth with the samples in 2023
NASA's Origins, Spectral Interpretation, Resource Identification and Security – Regolith Explorer (OSIRIS-REx) spacecraft captured the highest-resolution mosaic yet of sample site Osprey on asteroid Bennu.
The spacecraft snapped the detailed image ahead of the schedule to collect samples from the asteroid.
On May 26, OSIRIS-REx conducted a reconnaissance pass over Osprey, the backup sample site for the collection attempt in the coming months. During the pass, the spacecraft collected hundreds of photos, which were then stitched together to form the mosaic of Osprey to date.
Because it was the closest that Osprey was ever imaged, the mosaic showed the sample site in excellent detail, which is highly useful since the pass was intended to help identify the optimal location to retrieve samples.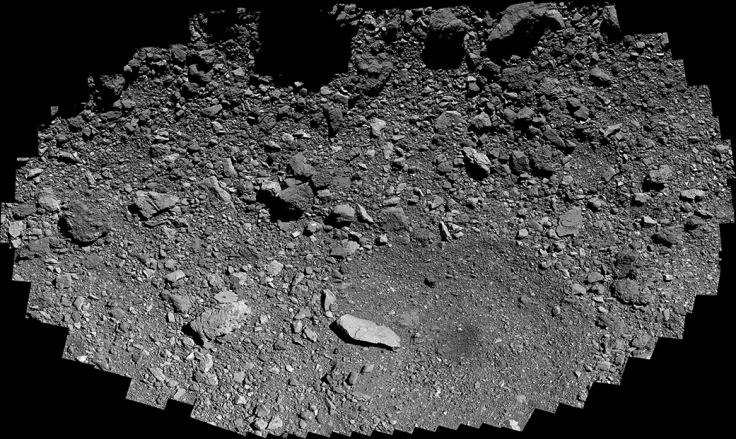 Osprey, however, is just the back-up sample collection site after Nightingale, the primary site targeted for the first sample collection attempt on asteroid Bennu.
Initially, the Touch-and-Go (TAG) sample collection was scheduled for Aug. 25, 2020, after a rehearsal in June. However, due to the challenges brought about by the coronavirus pandemic, the team decided they would take more time to prepare for the mission. The schedule for collection was adjusted by two months, moving the rehearsal to Aug. 11, 2020, and the sample collection attempt to Oct. 20.
"This mission's incredible performance so far is a testament to the extraordinary skill and dedication of the OSIRIS-REx team," OSIRIS-REx principal investigator at the University of Arizona, Dante Lauretta, said in a May 20 NASA news release. "I am confident that even in the face of the current challenge, this team will be successful in collecting our sample from Bennu."
During the brief TAG event, OSIRIS-REx will touch the asteroid's surface for just five seconds, disturb the area by firing a charge of pressurized nitrogen, and collect a sample before moving away.
If the first attempt in October proves successful, no other efforts will be made. However, if the first attempt fails and another one at Nightingale is not possible, the team will try to collect samples from Osprey instead.
If things go according to plan, OSIRIS-REx will return to Earth with the samples on Sept. 24, 2023.
© Copyright IBTimes 2023. All rights reserved.
FOLLOW MORE IBT NEWS ON THE BELOW CHANNELS