NASA's Perseverance Rover Now Positioned On Launch Pad [Video]
KEY POINTS
The rocket carrying NASA's Perseverance rover is now positioned on the launch pad
A video shows its short, final journey on Earth
Perseverance rover is also carrying spacesuit materials to be tested on the Martian surface
NASA's Perseverance rover has made its final "move" on Earth as it made its way to the launch pad ahead of this week's launch. Apart from its main mission on Mars, it's also geared up for an extra mission that can help prepare for a future manned mission to the Red Planet.
The United Launch Alliance's (ULA) Atlas V rocket carrying NASA's Mars 2020 Perseverance made its final Earth journey to the launch pad on Tuesday, July 28, at 10:24 a.m. EDT. In a video shared by NASA's Launch Services Program on Twitter, the massive rocket can be seen as it makes the short 30-minute trip from ULA's Vertical Integration Facility to Cape Canaveral Air Force Station's Space Launch Complex 41 at speeds of 3 to 4 miles per hour.
So far, the U.S. Air Force 45th Weather Squadron is predicting an 80% chance of favorable conditions for the launch on Thursday, July 30, at 7:50 a.m. with a two-hour window. According to a NASA blog, the main weather concerns now are cumulus and thick clouds.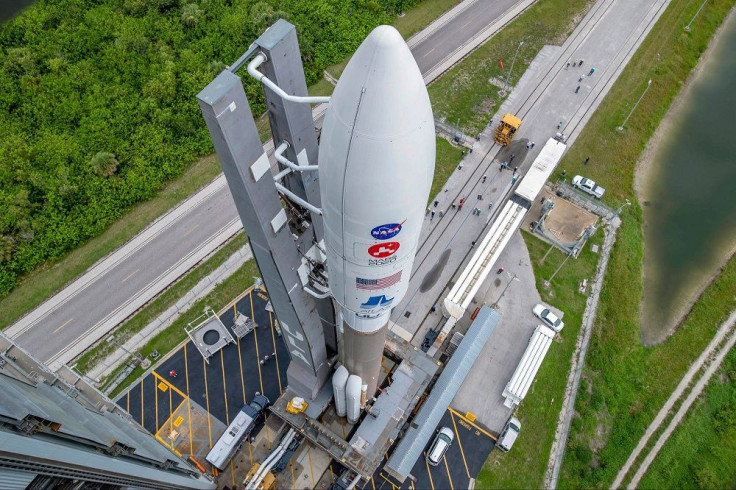 Apart from its main missions of collecting Martian samples and searching for signs of ancient microbial life on the Red Planet, the Perseverance rover is also helping to prepare for future manned Mars missions. For instance, to see what the first Mars astronauts should wear on the mission, the Perseverance rover will be carrying five astronaut suit material samples including a piece of helmet visor to be tested once on the Red Planet.
These materials are the ones being tapped to be the outer layer of the future spacesuit, which means they will be exposed to the most radiation.
For this extra mission, the Scanning Habitable Environments with Raman & Luminescence for Organics & Chemicals (SHERLOC) instrument will be used. An instrument the size of a smartphone, SHERLOC's main job is to search for materials, minerals and biosignatures in Martian rocks. It can also test the materials to see whether they will last in the Martian environment.
"On Mars, radiation will break down the chemical composition of the materials, weakening their tensile strength," spacesuit designer Amy Ross said in a report from NASA. "Do we need to develop new materials, or will these hang in there?"
To learn these and more, Perseverance has to successfully launch within the July 30 to Aug. 15 window and, make the seven-month journey to the Red Planet.
© Copyright IBTimes 2023. All rights reserved.