Nate Silver: 92 Percent Chance Obama Wins Election Day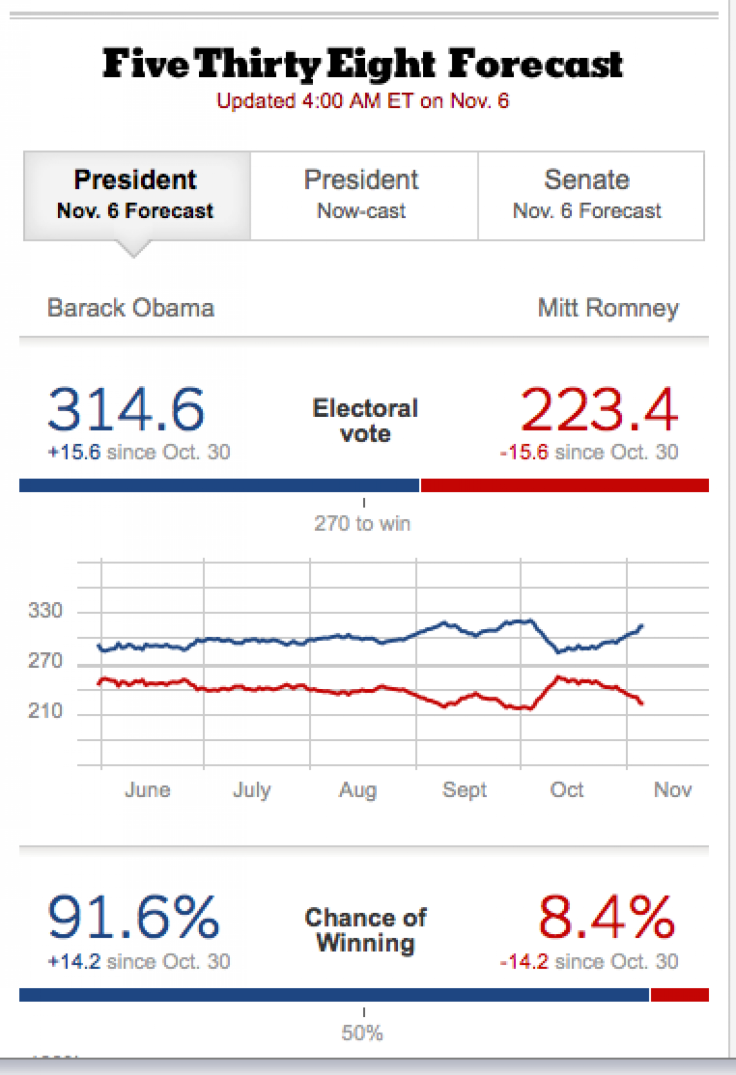 The national polls may be showing that the election is a toss-up between President Barack Obama and challenger Mitt Romney. But not so, says The New York Times statistics guru Nate Silver, who predicts that Obama has a 92 percent chance of winning on Election Day.
In the Monday update to his FiveThirtyEight blog, Silver argues:
"Romney has always had difficulty drawing a winning Electoral College hand. Even during his best period of polling, in the week or two after the first presidential debate in Denver, he never quite pulled ahead in the polling averages in Ohio and other states that would allow him to secure 270 electoral votes.
"But the most recent set of polls suggest another problem for Mr. Romney, whose momentum in the polls stalled out in mid-October. Instead, it is President Obama who is making gains."
"Among 12 national polls published on Monday, Mr. Obama led by an average of 1.6 percentage points. Perhaps more important is the trend in the surveys. On average, Mr. Obama gained 1.5 percentage points from the prior edition of the same polls, improving his standing in nine of the surveys while losing ground in just one."
Silver's forecast then is that Obama will win the electoral college and even secure more of the popular votes.
By The Numbers
Here's a breakdown of Silver's numbers:
- Obama will get 314.6 electoral votes while Romney 223.4. The number needed to win is 270;
- The President has a 91.6 percent chance of winning while Romney has a mere 8.4 percent;
- Obama will bag 50.9 percent of the popular vote while Romney gets 48.3 percent; and
- The swing state of Florida is blue with Obama getting 52.5 percent support there. He is also favored to win Virginia, New Hampshire, Iowa, and Colorado as well as Ohio.
Silver is respected for his accuracy in predicting the winner of 49 of 50 states in the 2008 presidential election. The one he missed, Indiana, went to Obama by 1 percentage point. Silver also accurately predicted the winner of all 35 Senate races that year.
When Romney began catching up – even pulling ahead of Obama – in some polls, Silver faced heavy criticism for predicting, at the time, a more than 74 percent chance of winning for the president.
"Nate Silver could be a one-term celebrity," Politico's Dylan Byers wrote in October. "It's a prediction that liberals, whose heart rates continue to fluctuate with the release of every new poll, want to take solace in but somehow can't. Sure, this is the guy who correctly predicted the outcome of the 2008 election in 49 of 50 states, but this year's polls suggest a nailbiter."
Joe Scarborough, a former Republican congressman who hosts MSNBC's "Morning Joe" program and predicts a Romney victory, also thought Silver was wildly off the mark.
"Both sides understand that it is close, and it could go either way," Scarborough said. "And anybody that thinks that this race is anything but a toss-up right now is such an ideologue, they should be kept away from typewriters, computers, laptops and microphones for the next 10 days, because they're jokes."
Early last month, the University of Colorado predicted a win for Romney. The analysts, political science professors Kenneth Bickers of CU-Boulder and Michael Berry of CU Denver, predicted the Republican nominee racking up 330 of the total 538 electoral college votes, a victory that would qualify as a near landslide.
"We continue to show that the economic conditions favor Romney, even though many polls show the president in the lead," Bickers said via a press release when the predictions were released. "Other published models point to the same result, but they looked at the national popular vote, while we stress state-level economic data."
Real Clear Politics' electoral college map shows Obama with 201 votes and Romney with 191. And the others? By RCP estimates, 146 are a toss-up.
© Copyright IBTimes 2023. All rights reserved.