National Nutrition Month 2015: Ideas For Healthy Eating Habits, Recipes And Tips For A Balanced Diet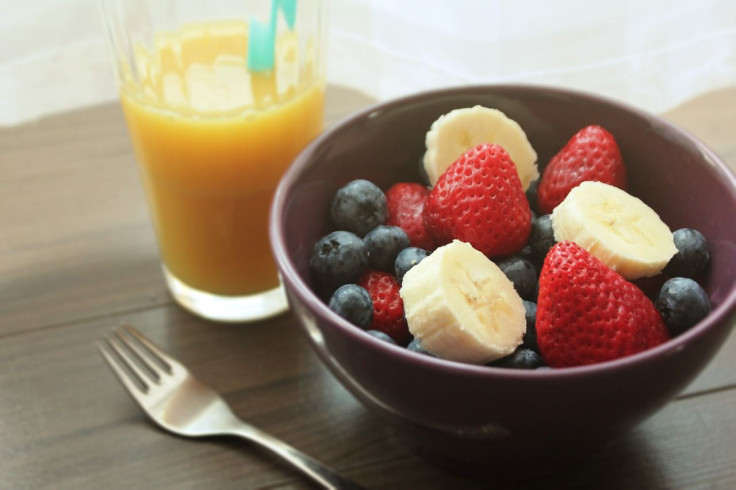 There's no better time to kick unhealthy eating habits to the curb than National Nutrition Month. The annual eat-right campaign, which begins in March, comes right about the time many people's New Year's resolutions start falling to the wayside and is a reminder to maintain a wholesome diet and exercise regimen. Here are our tips for eating better, some suggestions for healthy recipes, and a few ideas for maintaining a balanced diet.
The Web is full of diet plans galore, but nutritionists say a true miracle menu doesn't exist. "There is no one pill, food, drink, or machine that is the key to achieving optimal health. A person's overall daily routine is most important," Morgan Richardson of the Scotland County Health Department told Laurinburg Exchange. "Pick fruits, vegetables, whole grains and fat-free or low-fat dairy more often. Make time to exercise daily beyond your normal daily routine. Be aware of portion sizes. Even low-calorie foods can add up when portions are larger than you need."
The benefits of eating right are numerous. A balanced diet has been linked to reduced risk of some chronic diseases like heart disease and Type 2 diabetes, lower blood pressure and cholesterol, and can even prevent some types of cancer.
To get on the right path, HelpGuide suggests not getting consumed by calorie counts or portion sizes. Instead, consider your plate a vessel for color and variety. Look for recipes that incorporate a few fresh ingredients. Don't think of certain foods as being off-limits. "When you ban certain foods or food groups, it is natural to want those foods more, and then feel like a failure if you give in to temptation," according to HelpGuide. "If you are drawn towards sweet, salty or unhealthy foods, start by reducing portion sizes and not eating them as often."
According to the President's Council on Fitness, Sports and Nutrition, when you look at your plate, you should see half of it filled by fruits and vegetables. Such foods are a great source of fiber and essential vitamins and minerals. Look for color – reds, oranges and dark greens. Broccoli, sweet potatoes and tomatoes are always a safe bet. Whenever you can, choose whole-wheat bread instead of white bread. Lastly, cut down on your solid fat intake – cakes, cookies, pizza, sausage, bacon and ice cream, to name a few.
When going for protein, choose leaner sources. Substitute a chicken or turkey breast or seafood for a piece of steak, and look for ways to incorporate dry beans or peas, eggs and nuts.
To add more fruit to your diet, start by slicing up a banana in your morning cereal, or serve a sliced apple with a small portion of brown sugar for desert. If you're a yogurt fiend, throw in some blueberries or raspberries.
One trick to reduce portion size is to simply get smaller plates. Save any leftovers for lunch the next day.
Making healthy dinners doesn't have to be a struggle. This grilled chicken cutlet with summer succotash recipe from Health.com takes less than 10 minutes to make. If ground beef is more your taste, this stuffed Bell peppers with cumin-spiced ground beef recipe from RealSimple is a true keeper. These quick-and-easy salad recipes from the Food Network aren't your average dinner salads. The recipes are out there, you just have to do a bit of searching.
Are you someone who frequents restaurants? There are a few habits you can change to make dining out healthier. Forgo the soda for a glass of water or unsweetened tea, and substitute fries out for a side salad. The U.S. Department of Agriculture suggests ordering steamed, grilled or broiled dishes instead of deep fried or sautéed. Ask for salad dressing on the side, order foods that don't have gravies or creamy sauces, and consider sharing a main dish with a friend.
© Copyright IBTimes 2023. All rights reserved.
FOLLOW MORE IBT NEWS ON THE BELOW CHANNELS