Navy Cruisers Should Be Stripped Of Ballistic Missile Defense, US Admiral Says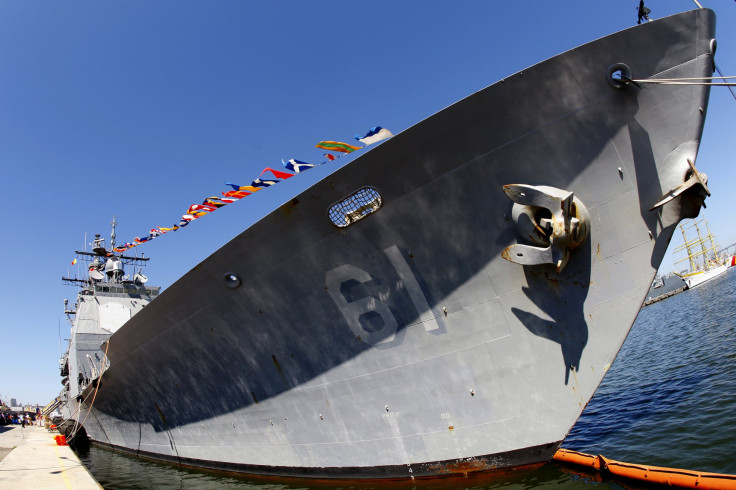 Another high-profile naval officer is speaking out against having the U.S. Navy's fleet of cruisers equipped with ballistic-missile defense capabilities. Adm. John Richardson, the current nominee for chief of naval operations, said he supported stripping Navy cruisers of the sea-based missile defense system, Politico reported.
As the Navy planned to take 11 of its cruisers out of service for a multiyear modernization and remove ballistic-missile defense capability from five vessels as part of the upgrade, the popular, expensive and increasingly ill-adapted system has become a contentious issue.
Thirty ships were currently participating in the Aegis Ballistic Missile Defense System, which is designed to intercept short- to intermediate-range ballistic missiles and is widely seen as a critical part of providing missile protection to the U.S. However, the costly Aegis system, built by Lockheed Martin, ultimately restricts the movement of the Navy by limiting the number of ships able to perform other, more pressing tasks and missions. The systems also take up a large part of the naval budget.
Other Navy officers have echoed Richardson's sentiments. "Would I love to give this to somebody else?" Rear Adm. Peter Fanta, the Navy's director of surface warfare, asked rhetorically in a June conversation with reporters, Breaking Defense reported. "It would greatly alleviate the pressures on my budget."
Despite supporting stripping naval cruisers of ballistic-missile defense capabilities, Richardson has been a big proponent of the Navy's submarine-launched ballistic missiles. The Pentagon's inspector general cleared Richardson of allegations that he engaged in improper lobbying for the new ballistic submarine program July 21 after he called for attendees at a trade show to try to sell lawmakers on the replacement Ohio-class nuclear submarines, Politico reported.
Naval officers have supported Richardson as a candidate for chief of naval operations, stressing his experience and knowledge of problems currently facing the military branch.
"I think he's going to look at how to solve challenging problems using the insights of those around him," a three-star admiral told Navy Times about Richardson's nomination for the operations job. "He's got a unique style and a unique ability -- he's very smart, very quick and very personable, and if people offer him an opinion and perspective, he'll listen to them."
The United States began building three land-based missile-defense systems in Romania in 2015, as part of its broader defense program.
© Copyright IBTimes 2023. All rights reserved.