NBA 2018-2019 Season Predictions For Lakers, Warriors, Celtics, Rockets, Top Finals Contenders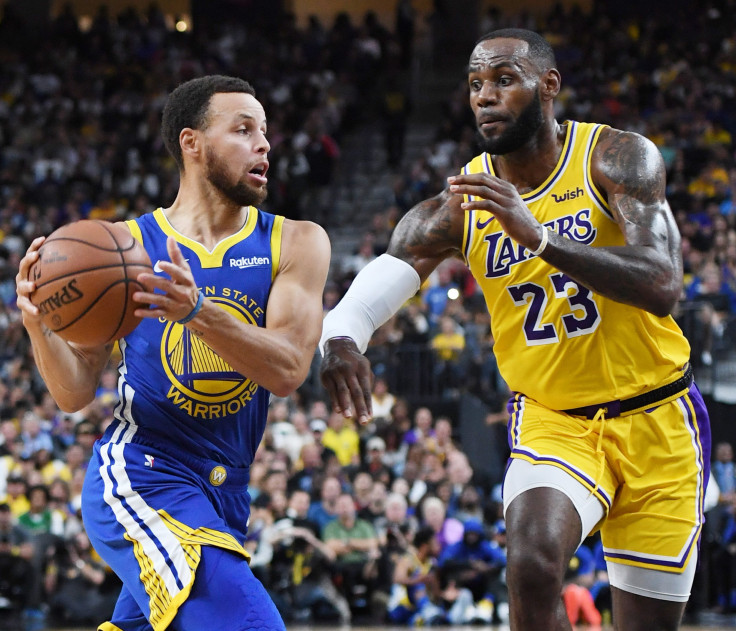 The 2018-2019 NBA season is similar to recent seasons in that only a handful of teams have a realistic chance to reach the NBA Finals. The Golden State Warriors remain the overwhelming favorites to win yet another championship, though some new teams have emerged as threats to make deep postseason runs.
LeBron James' decision to move to L.A. means the Los Angeles Lakers are now one of the West's best teams and the Cleveland Cavaliers won't be playing in June for the first time since 2014. The Houston Rockets are Golden State's biggest threat after taking them to seven games in last year's conference finals, and the Boston Celtics are the favorites in the East after making two consecutive conference finals appearances. The Toronto Raptors and Philadelphia 76ers are the only other NBA teams that aren't major longshots to win the title, per the latest odds at OddsShark.
How will each contender perform in the regular season? Here are predictions for the NBA's top teams:
Golden State Warriors (Under 62 Wins)
The Warriors showed how little they cared about the regular season last year when they won 58 games and rested their star players throughout the season. Golden State still managed to win the NBA Finals in four games, despite forfeiting the West's No.1 seed. Keeping Kevin Durant, Stephen Curry, Draymond Green and Klay Thompson fresh for the playoffs will be the Warriors' No.1 goal. That could make it difficult for them to crack the 60-win total in an improved conference.
Boston Celtics (Over 59 Wins)
The Celtics went 55-27 last season when Gordon Hayward missed the entire year and Kyrie Irving didn't play 22 games. Now that both stars are healthy, players like Jaylen Brown and Jayson Tatum are a year older and LeBron James is out of the East, Boston could cruise past 59 wins. Boston is the class of the conference with more talent than anyone and the best head coach by a significant margin. They should finish with the NBA's best record.
Houston Rockets (Over 56.5 Wins)
Why exactly is Houston projected to win nearly nine fewer games than they did a season ago? James Harden, Chris Paul and Clint Capela are all back after they led the Rockets to 65 wins in the 2017-2018 season. Maybe Houston will be more cautious with Paul after an injury cut his postseason short, but he only played 58 games last year. The Rockets won 55 games when Paul wasn't on the roster in 2016-2017, so it's hard to imagine they won't win at least 57 games if they can avoid major injuries.
Toronto Raptors (Over 56 Wins)
It's easy to forget how good Kawhi Leonard can be when healthy. Before missing almost all of last season with a leg injury, the former San Antonio Spur finished had two straight top-three MVP finishes. He was the best player on a team that averaged 64 wins in those two years, and now he's joining a Toronto team that led the East with 59 victories a year ago. Leonard is a significant upgrade over DeMar DeRozan, giving the Raptors a chance to come close to matching last season's franchise record for wins.
Philadelphia 76ers (Under 53.5 Wins)
The 76ers will be a major contender in the East, but it could be difficult for them to avoid losing fewer than 30 games. Boston should be better, and Toronto might be improved. Don't be surprised to see the Milwaukee Bucks take a major step forward since they have now a good head coach and Giannis Antetokounmpo is primed for an MVP-caliber season. Joel Embiid still has to prove that he can stay healthy enough to even play 65 games, and Philadelphia probably won't be a top-three seed if he misses any significant period of time.
Los Angeles Lakers (Over 48 Wins)
L.A. went 35-47 with one of the NBA's youngest teams last season, and they likely would have improved that record without adding any high-profile free agents. Now that they've added the best basketball player on the planet to a roster that includes a couple of budding stars, winning 50 games is a real possibility. James dragged the Cleveland Cavaliers to a 50-32 record last year, and the Cavs had a much weaker roster than this Lakers' team. Even in a tougher conference, James is good enough to lead almost any team to at least 15 games over .500 over the course of a full season.
© Copyright IBTimes 2023. All rights reserved.