NBA All-Star Andrew Wiggins Says Another Warriors Player Will 'Dominate' Upon Return
KEY POINTS
Warriors big man James Wiseman has been cleared for 5-on-5 scrimmages
Andrew Wiggins commented on Wiseman's contribution to the team
Steve Kerr addressed the Dubs' apparent issue concerning size
A Golden State Warrior is expected to provide the team a much-needed boost in terms of size.
Warriors general manager Bob Myers revealed Tuesday that James Wiseman has been cleared to take part in 5-on-5 scrimmages. It's a huge leap for the second-year big man, who missed out on half of the last season due to a torn meniscus.
There's no exact timeframe yet as to when Wiseman can join the Dubs in games. However, Warriors All-Star guard Andrew Wiggins is already excited about it as he is certain the 20-year-old will quickly dominate upon his return.
"Obviously, he's [Wiseman's] had his ups and downs already in his career with the injury and stuff, but he's still so young and if you look at him now, he's a tank, man," Wiggins told NBC Sports Bay Area's Grant Liffmann on the latest episode of "Dubs Talk." "He's a tank, he's been working hard, so I feel like when he comes back he's going to dominate."
"He has his head on straight, he comes into the facility, to the games with a good attitude, ready to work, ready to get better," he continued. "The main thing about him is he listens, he wants to get better, he wants to learn. I think the sky is the limit for him also."
Wiseman's injury limited him to just 39 games last season. He underwent a second cleanup surgery in December 2021, but an earlier report said the Warriors hope to have him back "sometime in February" or before or after the All-Star break.
For now, Wiseman is maximizing the opportunity to continue working on his full recovery.
"It was very frustrating, going through a lot of dark times," Wiseman told San Francisco Chronicle. "I wanted to play. But seeing the light at the end of the tunnel, it's a blessing to get back on the court."
In his return, many have speculated that Wiseman will certainly add size into the Warriors squad. However, coach Steve Kerr revealed that the team's issues "go way beyond" that.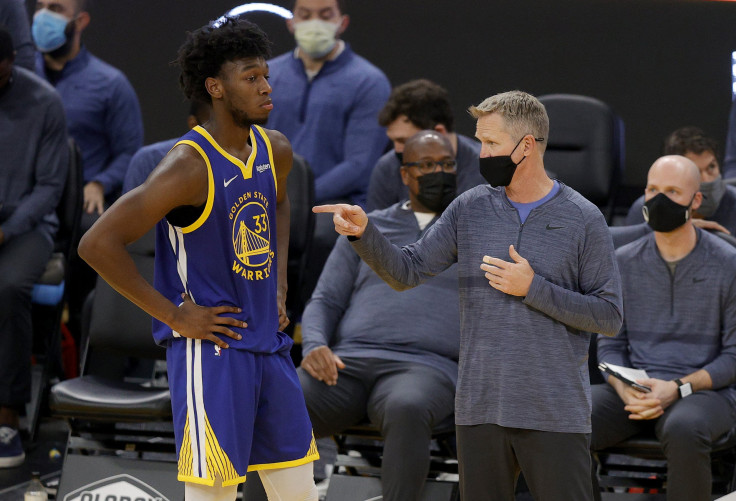 Kerr also emphasized that it is the GM's job to address that issue. At the moment, he is certain the Warriors will be fine having both Wiseman and Draymond Green back in the lineup.
"We feel good about where Draymond [Green] and James [Wiseman] are, and I'm sure that will factor in," Kerr said. "General manager Bob Myers will determine all that stuff. Our issues go way beyond just not having enough size. When we're getting beat at the point of attack over and over again, that has nothing to do with our center position."
"I really don't think it's a matter of replacing Draymond or James with a big right now," he added. "It's about us finding our energy and our collective will together defensively, and then getting those guys back hopefully soon."
© Copyright IBTimes 2023. All rights reserved.