NBA All-Star Game 2019 Odds: Team LeBron A Big Favorite, Durant, Giannis Top MVP Candidates
Trying to make predictions for the NBA All-Star Game is usually a pointless exercise since the players don't give much effort until the last few minutes of the fourth quarter, but one team actually has a clear advantage in Sunday's contest. LeBron James' team is considered to have the best roster, and the group is a pretty significant favorite over Giannis Antetokounmpo's squad.
Team LeBron is laying 6.5 points against Team Giannis Sunday night at the Spectrum Center in Charlotte, according to the betting odds at BetOnline.ag. It's the second year of the draft format in which players from the Eastern and Western Conference are on both teams. James' team beat Stephen Curry's team 148-145 as a 3.5-point favorite last year.
The game's total is 310.5. The two teams set a record in 2017 with 374 combined points.
Team Giannis is led by their captain, who is one of the three true contenders for the 2019 NBA MVP award. Another candidate, Paul George, will start for Team Giannis alongside Curry, Joel Embiid and Kemba Walker.
James Harden is the MVP favorite after winning the award in 2018, and he will start on Team LeBron. James has missed 18 games this season, but he's still considered to be the best player in the league. Kevin Durant might still be the NBA's second-best player after winning two straight NBA Finals MVP awards, and he was James' first pick in the draft. Kawhi Leonard will also start for Team LeBron.
LeBron was the 2018 All-Star Game MVP with 29 points, 10 rebounds and eight assists. He's got the third-best MVP odds for Sunday's game. Antetokounmpo and Durant are tied as the MVP favorites. Durant won the award in 2012.
Anthony Davis was the MVP in 2017, while Russell Westbrook was honored as the game's best player in both 2016 and 2015.
​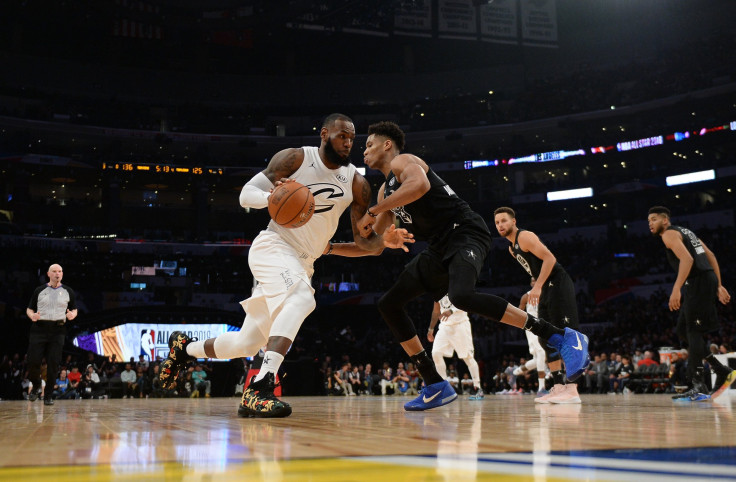 © Copyright IBTimes 2023. All rights reserved.