NBA Draft 2016: Early Look At Probable Lottery Picks From College And Europe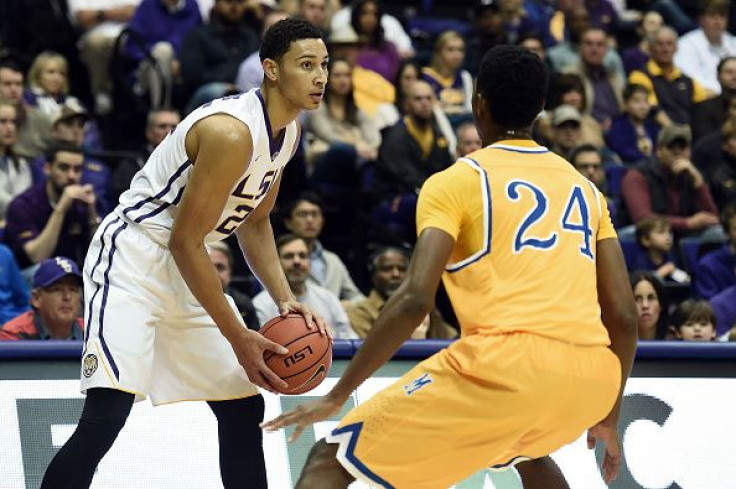 If you're an NBA team that isn't competing for a championship and is unsure about your playoff future, it's never too early to take a look at the college ranks. Just one player is capable of reversing a team's fortunes.
The upcoming class doesn't have a consensus No. 1 at the level of LeBron James in 2003 or Anthony Davis in 2012. But there is a high level of NBA potential for struggling teams like the Philadelphia 76ers, Los Angeles Lakers, and the Brooklyn Nets -- three teams with a combined win total of five.
Here's an early look at some likely lottery picks prospects:
1) Ben Simmons, LSU: The SEC Preseason Player of the Year is a 6-foot-10 freshman that came into the season projected to be next year's No. 1 pick and the early returns back it up as he's accumulated 77 points and 58 rebounds on 57.7 percent shooting in 132 college minutes. A polished passer with plenty of athletic ability, Simmons has a very bright future ahead of him at the professional level.
2) Skal Labissiere, Kentucky: Since finishing high school, Labissiere has increased his level of play and added onto his frame, gaining muscle without affecting his shooting touch. The big man has the ability to score from anywhere on the floor, as well as the rare ability at his size to create his own shot. At age 19, he is a solid defender with good rebounding instincts.
3) Brandon Ingram, Duke: Ingram is extremely long and lanky (6-foot-9 with a 7'3 wingspan) with an ability to finish at the rim. His greatest talent is his shooting touch and range, which extends to the NBA three-point line. He's a tough task to guard, because he can penetrate and knock down shots from anywhere on the court. A smart player with a relaxed feel for the game, it's easy to see the similarities with Andrew Wiggins.
4) Jaylen Brown, California: Brown has a man's frame as a 19-year-old, 6-foot-7, 225-pound freshman. He's got a combination of strength and speed rarely seen at his age and he's able to finish plays around the rim at a high rate, including some ferocious dunks. Brown is averaging 16.3 points in 24 minutes and has all the tools to be a great defender because of his size and athleticism.
5) Jamal Murray, Kentucky: Murray has great size for a combo guard and plenty of athleticism. The native of Ontario, Canada, is a leader who can flat out score. In his first big test as a college player vs. Duke, Murray had 16 points, five assists, five rebounds and four blocks.
6) Dragan Bender, Croatia: Bender is a versatile seven-footer for Maccabi Tel Aviv that runs the floor in transition like a wing player. He has a standing reach of 9-foot-3, so the lanky Croat has little trouble playing above the rim. He's experienced in professional basketball, multi-skilled with a solid shooting stroke and has plenty of upside on defense thanks to his size, reach and agility.
7) Kris Dunn, Providence: Dunn surprised many returning to school when he was projected to be a first-round pick. He he's got great size, versatility and defensive skills for a points guard. He led the nation in assists a year ago and also has the ability to create his own shots as well. The Big East Preseason Player of the Year is averaging 18.8 points, 7.8 rebounds and 6.8 assists per game in the early going.
8) Cheick Diallo, Kansas: It isn't known for sure if this freshman big man falls into the "one-and-done" category just yet but he has the talent to make it possible. The MVP of the 2015 McDonald's All-American game is adding to his offensive repertoire but is a constant on the glass and defense with his athleticism and 7-foot-3 wingspan. There is room for improvement, but he is definitely a player to watch.
9) Jakob Poeltl, Utah: This 7-foot Austrian runs the floor like a small forward and often gets himself scoring opportunities with effort and hustle alone. His skills are still a bit raw but he's got touch around the rim with both hands and has better coordination on defense than most big men. Poeltl, a sophomore, might be the best big man in the country right now and is proving it by scoring 20.8 points per game, including 32 last Sunday vs. Temple.
10) Caris LeVert, Michigan: LaVert has outstanding size for a guard at 6-foot-7 and is one of the more versatile players in this class. He's excellent in transition and as a spot-up shooter from anywhere on the floor, including long range. Scouts rave about his poise and maturity.
11) Henry Ellenson, Marquette: The 6-foot-10 freshman forward is a late bloomer but has great offensive skills for a big man and knows how to rebound. All of that is evident by his 14.5 points and 11 rebounds per game so far as the Big East's No. 2 prospect. He's rising up draft boards quicker than most expected with his rapid rate of progression.
12) Malik Newman, Mississippi State: This freshman guard has tremendous speed and a polished scoring touch, including a knack for creating his own outside shot. Newman has a high basketball IQ and a willingness to defend. He's also an intense competitor that's already opened eyes in international play and is off to a decent college start, scoring double figures in three of four games.
13) Damian Jones, Vanderbilt: The seven-footer is a specimen and with a 86-inch wingspan. He's got the athleticism and skill to be a high pick but needs to display more skills with the ball. Has already shown an ability to score and be an effective rebounder.
14) Domantas Sabonis, Gonzaga: Arvydas Sabonis taught his son well. The 19-year-old Lithuanian is due to break out this season for the Bulldogs. He has a large skill set, decent athleticism and leaves everything on the floor each night. At 6-foot-10, he has got a great feel for the game and has scored 41 points and 21 rebounds in 44 minutes on 82.6 percent shooting in his first two games of the season.
© Copyright IBTimes 2023. All rights reserved.