NBA Finals 2018 Injury Updates: Klay Thompson, Andre Iguodala Feeling Better Before Game 3
The Golden State Warriors have been forced to deal with a few injuries in the 2018 NBA Finals. Klay Thompson suffered a high ankle sprain in the opening minutes of Game 1, and Andre Iguodala hasn't played against the Cleveland Cavaliers because of a bone bruise in his left knee.
The latest injury update before Game 3 is an encouraging one for both players. Thompson's condition is improving after he made the start in Game 2, and Iguodala has a real chance to get back on the court when Golden State visits Cleveland Wednesday night.
Thompson hasn't missed any time because of his ailment. After being fouled by J.R. Smith at the 6:17 mark of the Game 1 first quarter, Thompson went to the locker room briefly before ending the contest with 45 minutes played. There was a concern that the shooting guard would miss the second game at Oracle Arena three days later because he was walking with a noticeable limp, but Thompson managed to score 20 points in 34 minutes in the Warriors' 122-103 blowout of the Cavs.
Speaking with reporters Tuesday afternoon, Thompson said he'd be fine for Game 3.
Thompson was listed as questionable for Game 2 before getting the start. Iguodala was considered doubtful, ultimately missing his sixth straight playoff game. The veteran suffered his injury in Game 3 of the Western Conference Finals against the Houston Rockets.
Warriors head coach Steve Kerr upgraded Iguodala's Game 3 status to questionable, via ESPN. The small forward has been pain-free over the last few days, and it sounds like he'll try to play at least one of the next two games in Cleveland.
Iguodala's return would give the Warriors another option in their hopes of slowing down LeBron James, who's scored 80 points over the first two games of the series. Iguodala won the 2015 NBA Finals MVP award in part for his defensive effort on James, though the league's top player still averaged 35.8 points per game.
Iguodala is averaging 7.9 points, 4.9 rebounds, 3.1 assists and 1.4 blocks per game this postseason. Golden State has struggled to find a reliable fifth option to play alongside their four All-Stars in his absence.
Stephen Curry hasn't missed any time since returning from the sprained MCL that cost him the first six games of the playoffs. The point guard looks to be completely healthy, averaging 25.8 points, 6.2 rebounds and 5.5 assists per game. Curry is the odds-on favorite to win the 2018 NBA Finals MVP award after going 14-28 from three-point range in two Golden State victories.
Kevin Durant has been healthy all postseason long after sitting out 13 regular-season games. He missed two first-round games with an injury in last year's title run.
​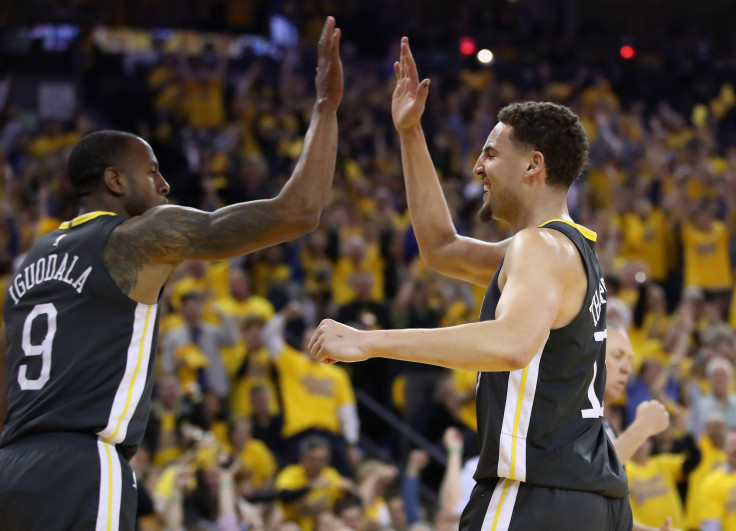 © Copyright IBTimes 2023. All rights reserved.