NBA Finals 2021: Ranking The 10 Best Players On The Phoenix Suns And Milwaukee Bucks
The 2021 NBA Finals is among the most evenly matched championship series that the league has seen in recent memory. Neither the Phoenix Suns nor the Milwaukee Bucks has a significant talent advantage when the rosters are healthy.
Both teams are led by legitimate superstars in Giannis Antetokounmpo and Chris Paul, who finished fourth and fifth, respectively, in the 2021 MVP race. They are each surrounded by a couple of All-Star-caliber players, as well as other role players who are capable of having big playoff moments.
Here's a ranking of the top 10 players in this year's Finals.
1) Giannis Antetokounmpo
With two NBA MVP awards and three additional top-seven MVP finishes in the last five seasons, Antetokounmpo is well established as one of the league's best players. Antetokounmpo is Milwaukee's only 2021 All-Star. He's filled up the stat sheet this postseason with averages of 28.2 points, 12.7 rebounds and 5.2 assists per game. If Antetokounmpo's knee injury doesn't prevent him from missing most of the series, he could enter a new stratosphere by becoming the best player on a championship team.
2) Chris Paul
Only LeBron James surpasses Paul in terms of sustained greatness among active players. Sixteen years after being drafted, Paul remains one of the league's most impactful superstars. It's no coincidence that Phoenix went from a decade-long playoff drought to the NBA Finals favorite in the season that Paul arrived. Paul makes all of his teammates better and becomes an assassin in crunch time. Averaging 39.0 points, 7.5 assists, 2.5 steals and 1.0 turnovers in the Suns' last two series clinchers, Paul has the best chance of winning the 2021 NBA Finals MVP award.
3) Devin Booker
Booker has made the transition from simply an All-Star to a true NBA star this postseason. Leading the Suns with 27.0 points per game in his first-ever playoffs, Booker has carried Phoenix in some key matchups. Booker outplayed LeBron James in the first round and capped it off by scoring 47 points as the Suns eliminated the defending champs. The guard outdueled Paul George in Game 1 of the conference finals with a 40-point triple-double as Chris Paul was sidelined with COVID-19.
4) Khris Middleton
An All-Star in 2019 and 2020, Middleton sometimes looks like one of the best scorers in the league. Middleton was the biggest reason Milwaukee defeated the Atlanta Hawks in the Eastern Conference Finals, taking over Game 3 with 38 points and averaging 29.0 points in the two games Antetokounmpo missed. The forward can be inconsistent, and his poor shooting performances on the road nearly cost the Bucks in the second round. He's Milwaukee's closer and will need to be great in order for the Bucks to defeat the Suns.
5) Jrue Holiday
In the conference finals, Holiday showed why Milwaukee traded for him in the offseason. The veteran made several big plays down the stretch as the Bucks closed out the series, and he leads the team with 8.4 assists per game this postseason. One of the best wing defenders in basketball, Holiday's two-way ability is what makes him most valuable. Holiday does have a tendency to disappear offensively, which is why he last made an All-Star team eight years ago.
6) Deandre Ayton
Ayton hasn't made an All-Star team since being drafted first overall in 2018, but his playoff performance suggests that won't be the case for much longer. The big man went toe-to-toe with Anthony Davis in the first round and Nikola Jokic in a second-round sweep. Ayton might've been Phoenix's MVP in the conference finals, dominating the glass and the paint. A walking double-double and a 70% shooter from the field this postseason, Ayton is certainly good enough to be a top-three player on a championship team.
7) Mikal Bridges
Phoenix has more depth than Milwaukee, and it starts with Bridges. There are times when Milwaukee's fourth-best player is a non-factor on one side of the ball, but Bridges' two-way ability makes him a perfect No. 4 on this Suns' roster. Bridges can switch onto most players on defense and is an above-average three-point shooter. He was not much of a factor on offense in the conference finals and will have to shoot better from behind the arc.
8) Jae Crowder
For the second straight season, Crowder is a key contributor on an unlikely NBA Finals team. The veteran is similar to Bridges in his ability to play defense and make threes, and he brings a toughness to Phoenix that can't be measured in stats. Crowder isn't afraid to take big shots, averaging 15.3 points on 58.3% shooting in the Suns' three closeout games.
9) Brook Lopez
Lopez is almost a lesser version of Middleton. Sometimes he looks like an All-Star, and other times Lopez belongs on the bench for the majority of the game. It often depends on whether or not he's knocking down threes, though Lopez did score 33 points on all two-pointers and free throws in Game 5 of the conference finals. Lopez had trouble against Trae Young and Atlanta's pick-and-roll early in the series. Paul could target Lopez on defense when they share the floor.
10) P.J. Tucker
A look at Tucker's offensive stats would indicate that he's not even a top-20 player in this series, but his impact on the other side of the floor can't be overstated. The 36-year-old gives everything he has on defense, often tasked with guarding the opponents' top scorer. Tucker made Kevin Durant earn every point he scored against Milwaukee, and he averaged 8.5 rebounds in the Bucks' wins against the Hawks. The veteran could play an even bigger role in the Finals if he manages to regain his stroke on corner threes.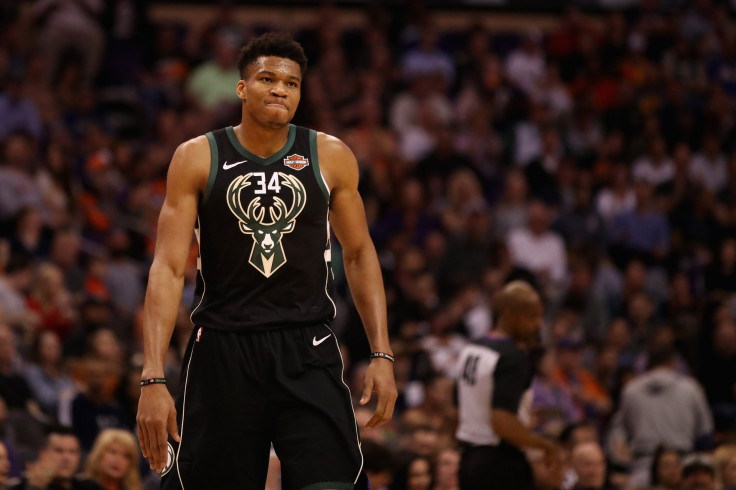 © Copyright IBTimes 2023. All rights reserved.