NBA FINALS: Mavs Win Title; Big Changes for Heat?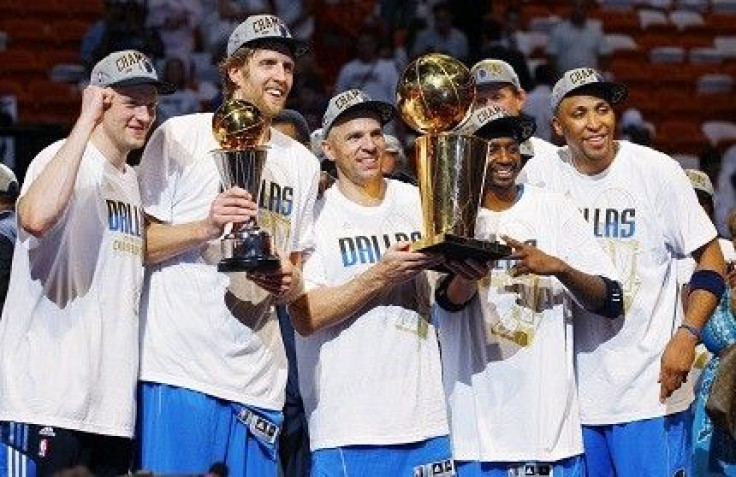 A hard fought series has come to an end, as the Dallas Mavericks were able to outlast the Miami Heat in Game Six of the NBA Finals, with a 105-95 victory.
Once again, the Mavericks dictated the tempo by starting the game out with a high-scoring quarter, and finishing the game with some hot shooting to raise their final score total to triple digits against a Heat team that drifted from their strategy of playing aggressive defense and a patient offense.
After a terrible first half, Dirk Nowitzki scored 10 of his 21 points in the fourth quarter, and added 11 rebounds, to propel Dallas to victory, and tp take home the NBA Finals Most Valuable Player award.
But in Game Six, Nowitzki's teammates came up big. Several Mavericks' players stepped up, including Jason Terry, who started the game hot, and didn't look back. The veteran guard finished with 27 points on 11-of-16 shooting from the field.
J.J. Barea also added 15 points on seven-of-12 shooting. The small guard hit a three-pointer in the fourth quarter that slowed a Heat run.
The Mavericks were the hungrier team, and it showed. They played with more determination, as players like Shawn Marion and Tyson Chandler did an excellent job of playing defense and getting key offensive rebounds.
Dallas had more steals and rebounds, and simply out-shot Miami, particularly from beyond the three-point arc where the Mavs shot 42 percent.
The Heat struggled from the free-throw line, converting just 20 of 33 shots.
The series will forever be remembered as the one where Nowitzki out played a Heat team with three superstars. The Mavericks' big man seemed unguardable at times, and converted an outstanding 45-of-46 free-throw shots.
Meanwhile, veteran guard and likely Hall-of-Famer Jason Kidd finally has won a championship ring at age 38.
Mavericks fans will no doubt remember this improbable run by their team. Before the season started, most experts picked either the Los Angeles Lakers or the Heat to win the title -- two teams the Mavericks defeated.
This title is the first ever for the Mavericks, and a great achievement for owner Mark Cuban. It took him over 11 years, but Cuban finally proved he can bring an NBA Championship to Dallas.
What about the Miami Heat?
For the Heat, they are left with questions.
What player changes do they make? Do they alter their coaching strategy? Do they lack an authentic winning attitude?
LeBron James had fourth quarter absences. Dwyane Wade had mental errors like dribbling the ball off of his foot in the fourth quarter of Game Six. Chris Bosh rarely made his presence felt when games were on the line.
This Big Three came to Miami with high hopes, but they've been the target of a great deal of media and fan criticism -- a fact that they even acknowledge.
The Heat obviously need some better role players than the ones they have, or need to find a way to play as more of a unit with their current roster.
How they will address that this offseason will be difficult. The team doesn't have have salary cap space and don't have much trade bait.
Perhaps an internal makeover is needed. This team felt like a group without a true leader. There were moments throughout the season where they were questioned for whining, crying, and not being clutch.
The Heat many need to do a better job looking at themselves as players, and trying to find answers on how they can improve their attitude and style to quiet critics who seem to relish their moment of pain.
© Copyright IBTimes 2023. All rights reserved.