LeBron James Posted Lonzo Ball's Summer League Game On Instagram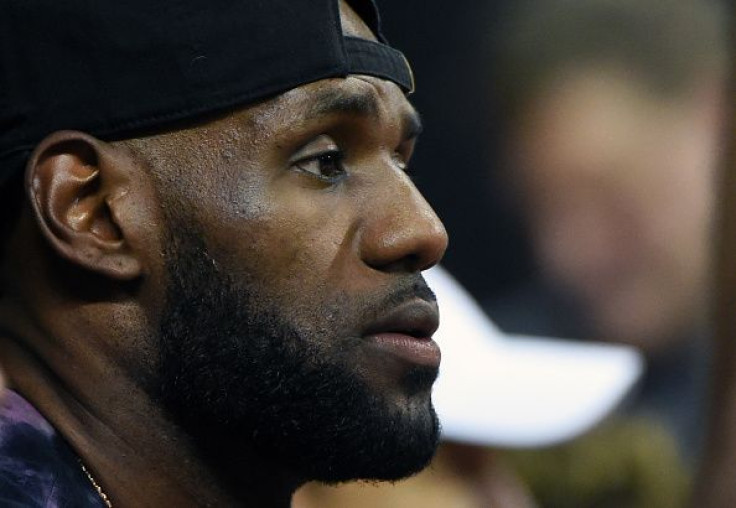 Los Angeles Lakers point guard Lonzo Ball attracted a large crowd in Las Vegas for the NBA Summer League. He had an impressive game while Cleveland Cavaliers star LeBron James looked on. Many, James included, were surprised at Lonzo Ball's footwear.
He performed in front of James sans his signature Big Baller Brand Z02 shoes. Lonzo Ball instead donned a pair of bright purple Nike Kobe A.D. sneakers, which released July 1. James recorded Lonzo Ball playing in Kobe's sneakers. It received over 3.3 million views on James' Instagram account. He captioned the video: "Just. Do. It."
James' reportedly signed a lifetime contract with Nike in 2015 for an estimated $1 billion.
Others took to Twitter and responded to Lonzo Ball's new sneaker choice.
Lonzo Ball's choice of footwear garnered attention from his father, LaVar Ball. He berated those who scoffed at the $495 price point of the sneakers in May on Twitter.
But Lavar Ball hasn't pigeonholed Lonzo Ball to Big Baller Brand, he said in a text message to ESPN Thursday.
"Lonzo is not forced to wear any brand and can play in any shoe he wants as long as it's OK with the NBA," LaVar Ball wrote. "This is what being independent is all about."
READ: LaVar Ball Explains Why Big Baller Brand Sneakers Are So Expensive
Lonzo Ball also confirmed that he was free to wear whatever sneakers he wanted despite being under the Big Baller Brand in an interview with ESPN's SportsCenter after the game.
"At BBB [Big Baller Brand], you can play in what you want," he said. "I already played in both of my shoes, might as well get the 'Mamba Mentality' going. Put 'em on, and it worked out tonight."
LaVar Ball talked to shoe companies like Nike and Adidas before the NBA Draft in June and attempted to negotiate for $1 billion to license Big Baller Brand. He later denounced the major sports labels in an EPSN interview and said that Lonzo Ball would not sign with them in the future.
"We not even caring about Nike and Adidas and Under Armour," LaVar Ball said. "We not even competing with them, because we're better than them, we're a step above them. We're what you call a premium active wear."
"Lonzo ain't going to these shoes companies saying, 'Hey, knock knock, it's me. Can I endorse your shoe? Can I wear your shoe?'" he added. "No, they coming to us. They've got to find that next best thing every time."
READ: Who Is LaVar Ball? The Outspoken Father Propelled Himself To Super-Stardom
The 19-year-old point guard, selected No. 2 overall by the Lakers in the NBA Draft, started off slow this summer but bounced back Wednesday. Lonzo Ball scored 36 points, 11 assists and eight rebounds in a 103-102 win over the Philadelphia 76ers.
© Copyright IBTimes 2023. All rights reserved.
FOLLOW MORE IBT NEWS ON THE BELOW CHANNELS