NBA: Golden State Warrior Klay Thompson Signs Another Obscure Autograph
KEY POINTS
Klay Thompson is one of the reasons for the Golden State Warriors' success
He's been a favorite with the fans as he's signed everything for them, including toasters
He recently signed a dog for a fan
The Golden State Warriors have reached success in the NBA due to their hot shooting and fast-paced offense. This is spearheaded by the three-point capabilities of Steph Curry and Klay Thompson. While Curry remains to be the face of the franchise as the leader and star of the team, Thompson is just as relevant as his fellow Splash Brother. He's shattered numerous three-point shooting records much like Curry and even holds the most made in a game with 14.
Thompson is seen as one of the more laidback players of the Warriors. He's been a personality online with how relaxed and at the same time open he is to different obscure activities. His demeanor is very calm and appreciates life as a basketball player and as a friend to his dog Rocco.
Throughout his career, he's been on tours promoting the Anta brand and has found himself in several silly predicaments. He was dubbed with the nickname China Klay with his goofy antics being caught on camera on tour.
Outside his China mishaps, he would also be seen in unexpected moments outside the court. He was interviewed before as a bystander talking about New York scaffolding – a very rare chance to see a professional athlete discuss public property and safety.
But one of the most memorable moments of Thompson was during the 2017 season where a fan asked to sign him a toaster. As he signed the toaster, the Warriors pulled through an incredible 31-2 record. The Warriors eventually won the title and Thompson invited the fan to the championship parade.
This ensued a trend of Thompson signing even more toasters in various arenas.
Now Thompson has even gone beyond the toaster in fan signing events. He recently signed a dog sporting a Warriors jersey. Thompson obliged and gave the dog a pat for being a good boy.
Thompson is currently sitting the season out when he tore his ACL during game six of the NBA Finals. The Warriors will have to wait by the end of the year before Thompson goes back on the court to deliver his three-point shots.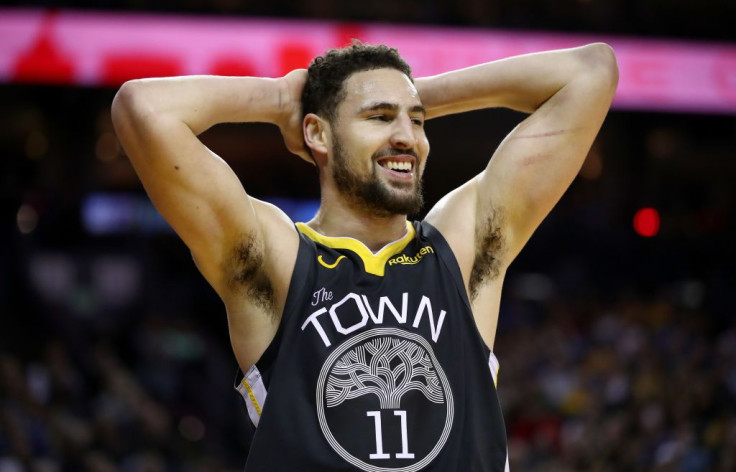 © Copyright IBTimes 2023. All rights reserved.