NBA Insider Giving Phoenix Suns Fans Hopes With Latest Kevin Durant Update
KEY POINTS
Shams Charania reveals more details about Kevin Durant's possible move to Phoenix
He also shuts down notions of Kyrie Irving trade rumors with the Los Angeles Lakers
Durant could be the one to help deliver the Suns its first-ever NBA title
The Kevin Durant sweepstakes have shown no signs of stopping, and Phoenix Suns fans have been praying their hardest in recent days that they get him on their squad.
NBA senior insider Stadium Shams Charania recently went on The Pat McAfee Show to talk about the happenings around the league during what has been one of the most eventful summers in recent history.
Charania was quick to deny the rumors of the Los Angeles Lakers making a move on Durant's backcourt tandem in Kyrie Irving before moving on to the discussion of what his opinion is on the matter.
"Kevin Durant, that's his preferred destination. The Phoenix Suns, from everything I've been told, are his No. 1 preferred destination. There's a desire to go play with Devin Booker and Chris Paul," Charania said.
"But overall, where do I think he ends up? At the end of the day, it's going to be who puts in the best package. They've got Deandre Ayton, Mikal Bridges, and all of their first-round draft picks. What I'm told is there isn't really a one-to-one interest with the Nets and the Suns on Deandre Ayton."
He would later mention that a package centered around Deandre Ayton and Mikal Bridges plus multiple first-round picks are not going to be enough to entice the Nets just yet.
Charania would later take a shot at those who claim the deal was going to be a few days away from completion since the intricacies of everything involved are way too complicated.
"This is why this is not going to be a process that is not going to play out this week. It will take multiple weeks to see if Phoenix really wants to get this deal done," he stated.
The mere thought of a core of Durant, Chris Paul and Devin Booker are certainly enough to get Suns fans excited about a deal coming together, but there is still a belief among them that Mikal Bridges could be staying.
Keeping Bridges may be one of the sticking points in this deal since he is such a big presence on defense while also being able to knock down threes and score buckets when needed.
The Suns have never been able to win the NBA championship even with a solid lineup, but Durant coming to "The Valley" could change all of that.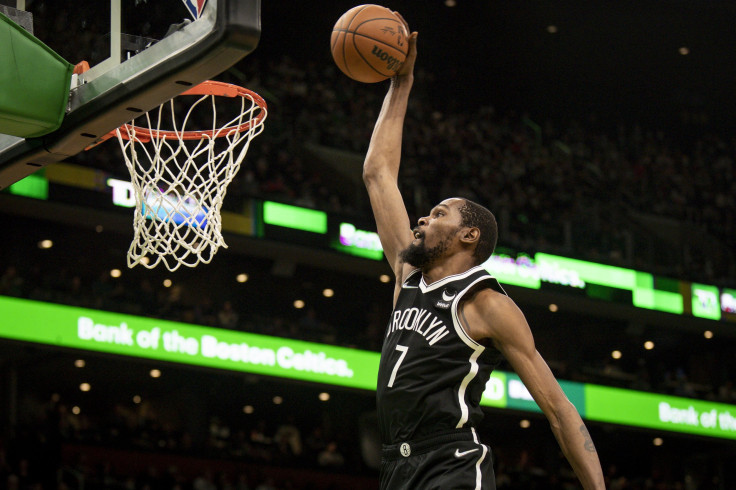 © Copyright IBTimes 2023. All rights reserved.