NBA: Kawhi Leonard Wouldn't Cause Big Changes In Clippers' Gameplan
Los Angeles Clippers guard Lou Williams has claimed that there will be no big changes in the team's gameplan even with the arrival of Kawhi Leonard.
The Clippers are viewed as one of the top NBA title contenders next season right after Leonard decided to join the group. While Leonard is known for being an efficient team player, he has also proven that he is highly capable of making great plays by himself.
Coming into the next season as the new face of the Clippers, Leonard is expected to cause significant changes in the team's on-court strategies. However, Clippers star point guard Williams stated that even now that the reigning NBA Finals MVP is the focal point of the offense, their pick and roll game will still be a staple gameplan of the team.
In a recent interview with ESPN during the 2019 NBA Media Day, Williams emphasized that instead of making changes offensively, he is positive they will compliment with Leonard's game.
"I don't think that (pick and roll play) has to change. I think we all gonna compliment each other well," Williams said.
The 3-time 6th Man of the Year also stated that the team's mindset is more about the "betterment of the team." This includes not doing what they are used to if they have to.
"You take all of our games and you kind of sacrifice some of the personal things that you are used to doing on the floor for the betterment of the team," Williams added.
With regards to the legacy that Leonard could have with the Clippers, Williams is just excited to be part of what he believes Leonard could bring to the franchise.
"It means a lot. Obviously he can create a legacy here that hadn't done in years passed. He can basically have a franchise to himself. Kawhi has the opportunity to do something special. I'm excited to be a part of this process," Williams noted.
As the season approaches, Williams has been making moves to unite the Clippers even off the court. In fact, Williams revealed the reason why he grouped some of his Clippers teammates in Miami this offseason.
According to Williams, the group bonded for 48 hours in Miami and it was all about building camaraderie and getting close with each other coming into the next season.
"Just to get everybody down, everybody be on the same page. It means a lot. That shows the mindset that this group have as far as building some camaraderie and getting together," Williams revealed.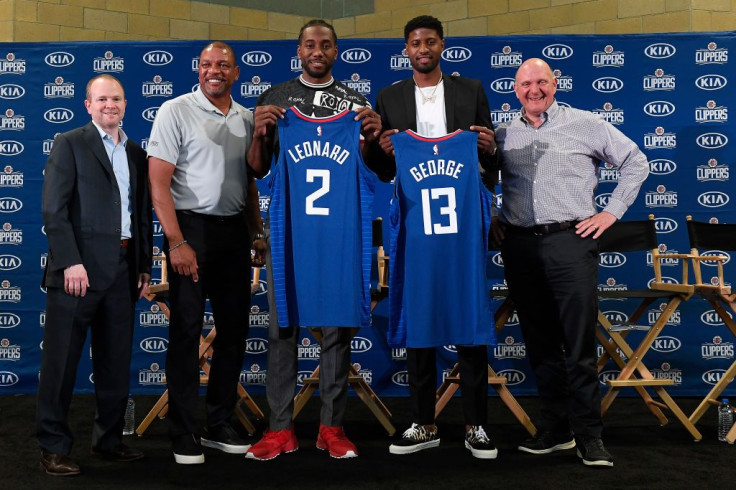 © Copyright IBTimes 2023. All rights reserved.
FOLLOW MORE IBT NEWS ON THE BELOW CHANNELS