NBA: Michael Jordan Real Thoughts About Scottie Pippen Revisited
KEY POINTS
Michael Jordan revealed his thoughts about Scottie Pippen hours before his NBA return in '94
Jordan said Pippen is different from other players
Phil Jackson hinted that Pippen was more valuable than Jordan
Michael Jordan revealed his real thoughts about Scottie Pippen hours before his first NBA return in 1994-95 season.
Arguably, the saddest part of being Pippen is the fact that he has always been regarded as Jordan's sidekick. Pippen himself is an NBA Hall of Famer and is considered as one of the best small forwards of all-time. Some believe that Jordan wouldn't have won 6 NBA titles if it wasn't for Pippen but he seldom shined as a lone superstar his entire career. However, when Jordan first retired from the NBA, missing the 1993-94 season, Pippen proved that he wasn't just the "No. 2" guy in the Bulls.
Pippen's reign as the main man for the Bulls was cut short when Jordan announced he is coming back from retirement. The media quickly shifted all their focus back on MJ. However, in an interview a few hours before making his highly anticipated NBA comeback, Jordan himself credited Pippen for stepping up in his absence.
What Jordan would tell reporters would shock the world as the greatest player of all time admitted that Pippen has handled the situation better than he could.
"I think he has a better understanding in terms of the expectations that a player of his caliber and my caliber have to live up to a day in and day out. I think that is one thing that really has made him that much better as a player. It was 18 months that I was away, and he had to deal with some of those similarities that I had to deal with when I was here. So I think mentally he becomes a little more stronger and can deal with different things a certain way," Jordan said.
Jordan further said that what separate Pippen from the pack is that he could maintain his consistency by regularly finding different challenges to always make himself a better player.
"I think that is one thing about the great players and the good players. Great players do it every night, and good players do it once in a while. I think Scottie understands the difference between the two, and he certainly has the talent and the credibility to do both," Jordan added.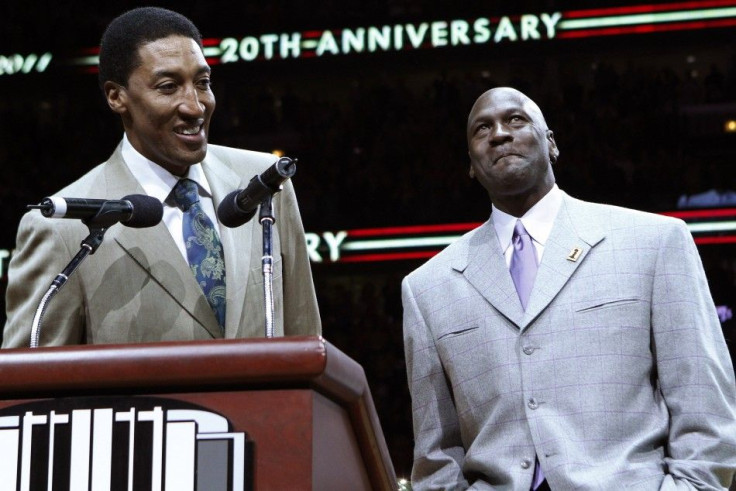 Former Bulls head coach Phil Jackson had also credited Pippen not only for what he has done when Jordan isn't around but also as an overall player as well.
Based on a statement by Rick Tellander, who worked for the Chicago Sun-Times and covered the Bulls for years, Coach Jackson himself occasionally hinted that Pippen was even more valuable than Jordan.
"Phil Jackson, at times has said that Pippen is the team's most valuable player. Where Jordan is the diamond pendant at the base of the gleaming necklace, Pippen is the thread running through the emeralds, pearls, and lesser stones that compose the whole. "He's the glue that holds the Bulls' triangle offense together," Tellander stated.
© Copyright IBTimes 2023. All rights reserved.