NBA News: Raptors Rookie Who Showed Promise Slapped With One-Season Suspension
KEY POINTS
Jalen Harris is banned next season after violating the NBA's anti-drug program
Harris is set to become a restricted free agent
The Toronto Raptors seek various ways to improve their roster next season
Jalen Harris of the Toronto Raptors showed glimpses of promise although his first year in the NBA was marred by injuries.
His sophomore season could be worth watching, but all that was nixed after he was disqualified for violating the NBA's anti-drug program.
The 22-year-old guard--who once scored 31 points on 12-of-21 shooting against the Dallas Mavericks this season--will miss the entire 2021-22 season as a result of the verdict.
It was a big blow to the 6-foot-5 guard who was showing promise in the final weeks of the regular season.
However, the NBA door is not entirely shut for Harris. Per Shams Charania of The Athletic, he will be eligible to apply for reinstatement in one year.
He averaged 7.4 points, 1.4 rebounds, and 1.3 assists in the 13 games he saw action with the Raptors.
But considering he went through an injury-plagued season, it will be interesting if Harris can pick up from where he left off.
Both counts may weigh considerably against him should he get reinstated after the coming NBA season.
Considering he is on a two-way deal with the Raptors, Harris is likely to become a restricted free agent.
There is no telling what team would take interest in him, meaning he will likely have to prove his stock once more through workouts or via the G-League.
Raptors head coach Nick Nurse is expected to dig into the free-agent market to pick up missing pieces on the team's roster.
Trades may also happen with the names of Kyle Lowry and Pascal Siakam often mentioned in the rumor mill.
Lowry has been linked to teams like the Miami Heat, while Siakam was recently suggested as possible trade collateral with the Golden State Warriors.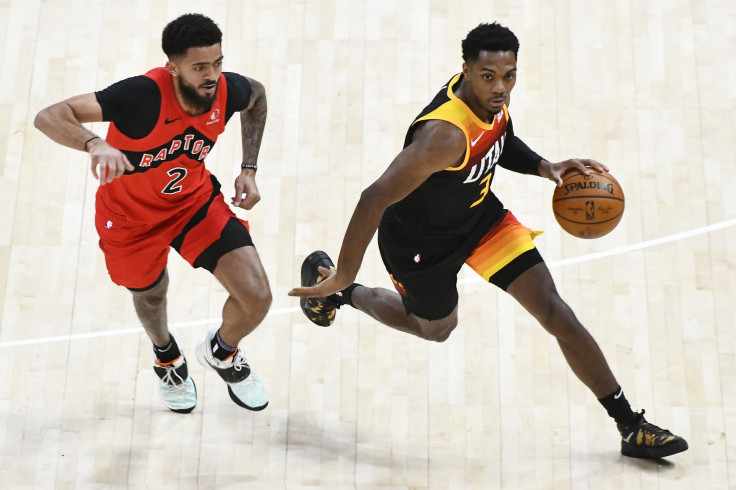 It was suggested that the Warriors could offer James Wiseman and the seventh overall pick of the 2021 NBA Draft to reel in 27-year-old Cameroonian.
It would provide the Dubs a big boost with Siakam filling up the power forward void.
The Raptors have been trying to infuse youth as they try to get back on the winning track.
Siakam has had his share of issues with Nurse although it was allegedly due to the competitive spirit of both individuals.
© Copyright IBTimes 2023. All rights reserved.