NBA Playoff Bracket: Brooklyn Nets, Milwaukee Bucks Considered Locks For Second-Round Series
The 2021 NBA playoffs are just three days old, but there doesn't seem to be much mystery over one potential second-round matchup. The Brooklyn Nets and Milwaukee Bucks are expected to cruise through the first round before meeting in the Eastern Conference Semifinals.
All it took was a 1-0 series lead for Brooklyn to be considered a virtual lock over the Boston Celtics. Heading into Game 2, the Nets are overwhelming -3000 favorites at FanDuel Sportsbook to defeat the Celtics in their series. Boston has +1120 odds to beat Brooklyn in four of the next six games.
The Celtics barely made it to the postseason with a .500 record. With Jaylen Brown injured, Jayson Tatum and Boston can't compete with a Nets' team that's led by three superstars.
The opening-round series between Milwaukee and the Miami Heat was thought to be much more evenly matched. That hasn't been the case after the Bucks blew out the Heat 132-98 in Game 2.
With a 2-0 series lead, the Bucks have -1200 odds to eliminate the Heat. Miami is a +680 underdog.
The Heat stunned the Bucks in the second round of last year's playoffs, needing just five games to eliminate Milwaukee. The defending East champions have struggled with Jimmy Butler scoring 13.5 points per game on 25% field-goal shooting. Giannis Antetokounmpo has averaged 28.5 points, 15.5 rebounds, 5.5 assists and 3.0 steals in the two victories.
A series between the Bucks and Nets would feature four of the last seven NBA MVPs. Even though the Philadelphia 76ers are the No. 1 seed, Milwaukee and Brooklyn might be the best teams in the conference.
The Bucks led the NBA with 120.1 points per game in the regular season. The Nets were second in scoring, despite Kevin Durant, James Harden and Kyrie Irving all missing significant time.
Milwaukee beat Brooklyn in the regular-season series 2-1. All three games were highly competitive.
The Nets are favored to win the 2021 NBA Finals, leading the East with +105 odds to win the conference. The Bucks have +260 odds to represent the East in the Finals.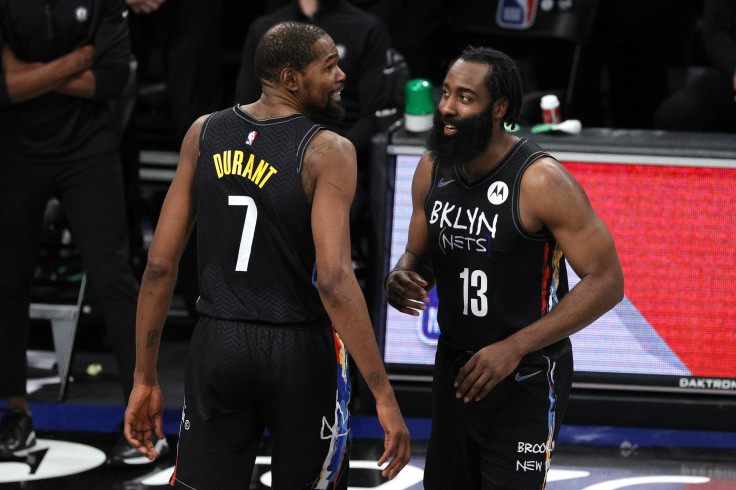 © Copyright IBTimes 2023. All rights reserved.