NBA Rumors: Celtics Downfall Linked To Potential Anthony Davis Deal
The Boston Celtics fell to the Milwaukee Bucks, a move that some parties felt was surprising. For one, the Beantown squad had a lot of talented players in the mix, led no less by the likes of Kyrie Irving, Gordon Hayward, Jayson Tatum and Jalen Brown. Could there be something more to the story?
As mentioned in a previous report, Irving is speculated of possibly moving out of Boston. Possible destinations are the New York Knicks or the Los Angeles Lakers. As per Uncle Drew, that decision will only be known on July 1. But other than the NBA All-Star guard, could there be others moving out?
Similar to the case of the Lakers, it is possible that some tension from within is brewing. Tatum and Brown have been mentioned in NBA trade rumors and something could go down this offseason. And the ultimate prize the Celtics may be after is Anthony Davis of the New Orleans Pelicans. With the 6-foot10 player's value, Boston could end up packaging both promising stars to land the All-Star center in the summer.
With that in mind, Brown and/or Tatum could be playing with a chip on their shoulder and a reason why there was that lack of spirit that head coach Brad Stevens mentioned in a previous report. Somehow, it may be the same aura that the Lakers had when they tried to trade for Davis before the February trade deadline. Most know how that caused problems in the Lakers' goal of booking an NBA playoff seat and the same issue may have bugged the Celtics.
Recall as well that it was Celtics team president Danny Ainge who allegedly persuaded the Pelicans to delay an Anthony Davis trade for the summer because they will make an enormous offer featuring certain players, the Boston Globe reported. Looking at the Boston roster, both Tatum and Brown are expected to be among the ones New Orleans would be interested in.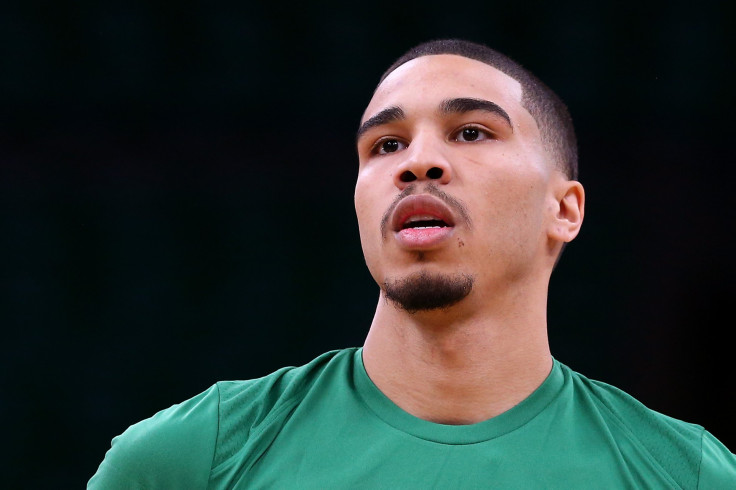 Tatum and Brown are reportedly close in trade value, Sporting News reported. Both are expected to be key pieces if the Celtics pursue an NBA superstar - likely Davis. With that in the air, Tatum and Brown may be performing but not at their best. Hence, the Celtics may be returning with a new look for the 2019-20 NBA season less some of the young stars. Hayward is likely to stay but who else? Could Irving suddenly have a change of heart if Davis comes in? These are some of the questions to watch out this NBA offseason.
© Copyright IBTimes 2023. All rights reserved.