NBA Rumors: Clippers On Kevin Durant's Radar, Knicks Move In Danger
The New York Knicks' decision to trade Kristaps Porzingis earlier this year – the best player on their roster – came as a shock to many but that gave the Knicks a league-high $74 million in max salary cap space going into free agency this summer, and it was clear they were planning big moves. Golden State Warriors' Kevin Durant was on top of their wish list and if NBA insiders are to go by, a deal has already been agreed between the player and franchise.
Durant will opt out of his contract this summer and enter free agency yet again, and has given no indication whether he will stay with the all-conquering Warriors, who only recently made their 5th straight NBA Finals, or look for a new team ahead of next season. The Knicks were considered as favorites but the New York Times' Marc Stein claims the Los Angeles Clippers will pose a major threat to the New York franchise signing their main target.
"Within the last month, very smart and plugged-in people I have consulted say that the Los Angeles Clippers have emerged as an equally dangerous threat to the Knicks to sign Durant away from Golden State," Stein wrote Tuesday. "And I believe it."
Stein admits that all the insiders can only guess as Durant has kept his cards very close to his chest, without giving even the slightest hint about his future plans. Initially, it was almost unanimous speculation about his potential desire to move to New York, but now he is said to be looking at Brooklyn Nets as an option while the Clippers are being considered on par with the Knicks.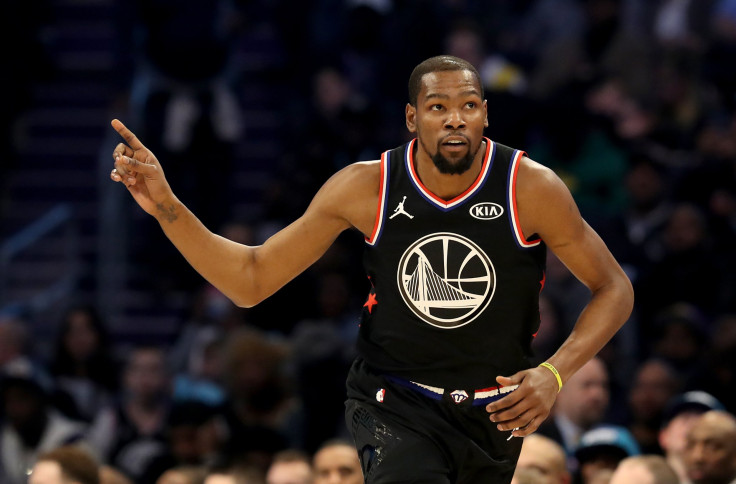 "Problem is, at various points during the season, I have heard trusted insiders state with conviction that Durant is already planning to join the Knicks … and then that he is likely to consider the Nets as well … and now that he is eyeing the Clippers just as intently as New York," he added.
Durant is currently sidelined with a calf injury as the Warriors begin preparation for their 5th straight NBA Finals. He has maintained that his entire focus is on helping his current employers claim the 3-peat, which they are favorites to complete.
The small forward's manager Rich Kleiman also revealed during a recent interview with Wall Street Journal sports that his client still doesn't know where he will sign this summer. Durant is said to be wary of focusing his attention on other things when he has to focus on recovering from his injury and getting ready for the finals.
© Copyright IBTimes 2023. All rights reserved.