NBA Rumors: Free Agent Swingman Staying Put; Lakers Need To Wait
Jimmy Butler of the Philadelphia 76ers will be one of the targets this coming NBA free agency. The Los Angeles Lakers are a team hot on his tail and the feeling seems mutual. But if the latest reports hold any weight, it looks like the 29-year-old will be sticking in the City of Brotherly Love for now.
According to Shams Charania of The Athletic, the camp of Butler and Sixers general manager Elton Brand sat down recently to discuss the NBA star's tenure. That said, it looks like the four-time NBA All-Star wants to prove something with the Sixers first before fulfilling his dream of joining the Lakers.
"We're expected to win and perform at a very high clip — just like these other teams out East. We know why we were brought together. But we can't skip over no games and skip over no days," Butler said in that interview.
As things stand now, it looks like the gamble of the Sixers on Butler is paying off. Recall that Philly parted ways with key players like Dario Saric, Landry Shamet and Robert Covington but acquired Tobias Harris, Boban Marjanovic and Mike Scott, the Bleacher Report reported. Adding up the young guns in Joel Embiid and Ben Simmons, the Sixers do look formidable as early as the current NBA playoffs.
However, they do have their work cut out for them moving forward. After wrapping up the Brooklyn Nets, the 76ers next face a surging Kawhi Leonard-led Toronto Raptors. From the looks of it, head coach Brett Brown will have plenty on his plate and Butler is likely to play a key role.
Assuming that Butler does stay on in Philly, the Lakers may need to look at other top NBA free agents. There will be plenty to consider, including the likes of Kevin Durant and Kawhi Leonard. Though both are a long shot (since both have been hotly linked to the New York Knicks and the Los Angeles Clippers respectively), the Lakers may have to look further down the list.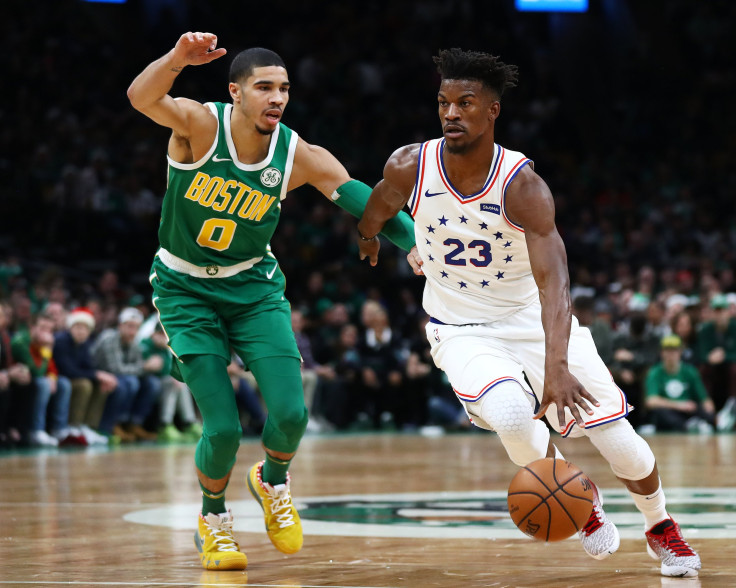 The good news is that Butler still wants to play for the Lakers. But the timeline for that to happen is a bit sketchy. He could end up signing a long-term deal with the Sixers with each passing year critical. Assuming it is between three to five years, Would Los Angeles still be interested? They bit the bullet on LeBron James so the same consideration could be made for the NBA Most Improved Player of 2015.
© Copyright IBTimes 2023. All rights reserved.