NBA Rumors: Houston Rockets Turmoil Costly With Chris Paul Impending Exit
The Golden State Warriors will enter the NBA offseason with plenty of questions following injuries to key players. Kevin Durant could be out for the entire 2019-20 NBA season with Klay Thompson also expected to miss majority (if not the entire) season. Like it or not, that is a window of opportunity for other Western Conference teams with the right mix.
One team that comes to mind is the Houston Rockets. They were one of the favored teams last season until chemistry issues surfaced in the NBA playoffs. The James Harden and Chris Paul partnership collapsed, and now, there is a growing belief that the latter is on his way out. Worse, it appears that general manager Daryl Morey is bent on flipping the script by making anyone on the Rockets roster available except for Harden, the 2018 NBA Most Valuable Player, The Big Lead reported.
The Rockets are not expected to fall short of suitors -- particularly for Paul. In a previous post, it was mentioned that the Miami Heat had its eyes on Paul, P.J. Tucker and Eric Gordon. Clint Capela is another prime candidate with several teams reportedly interested in acquiring the 25-year-old center. According to Yahoo Sports, the 25th pick of the 2014 NBA Draft could be a backup option for the Boston Celtics in case they fail to get Anthony Davis.
At 34, there is no question that Paul still has the hops to help any NBA team. Aside from the Heat, other teams where he could land include the Los Angeles Lakers or even his former team - the LA Clippers. But one thing that may hinder that from immediately happening is his contract. The nine-time NBA All-Star has three more years left in his four-year deal worth $159 million with the Rockets, USA Today reported. For interested teams, the numbers crunch will have to be done.
Other teams that could make sense for Paul are the ones in need of a veteran to man the point. NBA teams such as the Memphis Grizzlies, Utah Jazz or even the New York Knicks could make sense. Seeing however that most ballclubs are placing emphasis on youth, throwing away big money on someone who is nearing the twilight of his career may make them think twice. Unless Morey and the Rockets have a change of heart, the consensus is that CP3 is done in Houston. The only question now is where the 2013 NBA All-Star MVP will play next.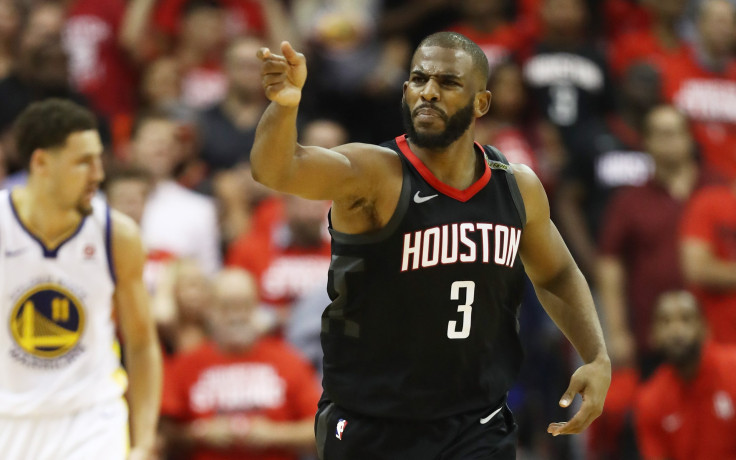 © Copyright IBTimes 2023. All rights reserved.